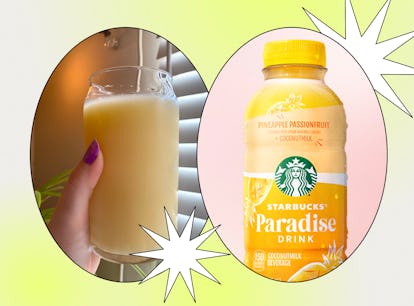 Starbucks' Ready-To-Drink Paradise Drink Tastes Just Like Dole Whip
It's also cheaper than the original.
Rachel Chapman/Starbucks/Elite Daily
We may receive a portion of sales if you purchase a product through a link in this article.
Going for a Starbucks run is a treat for some people, but now, you don't have to go very far to get your hands on your fave drink. With their new line of ready-to-drink beverages, you can get Starbucks' Pink Drink and Paradise Drink at the grocery store. After trying Starbucks' RTD Pink Drink and being pleasantly surprised, I had to try Starbucks' Ready-To-Drink Paradise Drink to see if it also tastes like its cafe counterpart.
While I thought Starbucks' Pink Drink was a great dupe to the one you can order in store, the RTD version of Starbucks' Paradise Drink is even better. First of all, you can find the new RTD Paradise Drink at your local grocery story for $3 to $4, which is actually cheaper than getting a grande Paradise Drink for $5 at Starbucks. I also didn't notice a huge difference between the RTD Paradise Drink juice and the iced beverage you can order from a barista. The only thing that was missing was the freeze dried pineapple.
The Paradise Drink you get from Starbucks has the pineapple passionfruit refresher base with ice, coconut milk, and freeze dried pineapple. While the dried pineapple does make your drink more Insta-worthy, it's not necessary when you're on the go and drinking from a bottle. And unlike the Pink Drink, which is known for its aesthetic Barbiecore shade, you're not missing much with the yellow Paradise Drink hiding in a bottle. Ultimately, you're not taking away from the experience by drinking the RTD version — instead, it made it so much easier for me to enjoy.
Starbucks' Ready-To-Drink Paradise Drink Review
The Pink Drink was a bit too sweet and I thought it needed some ice to water it down, but the Paradise Drink was refreshing and delicious on its own. If you're packing a beach bag, I would recommend adding one of these to enjoy while soaking up some sun. This would also be great when used as a mixer for a tropical cocktail, or in a summer mimosa if you're planning a brunch with your besties in the backyard.
The pineapple juice reminded me of a Dole Whip at Disney, which makes sense because the Starbucks Dole Whip drink off the secret menu actually uses the Paradise Drink as its base. The only thing that would make it a perfect dupe for the Disneyland treat would be to add Starbucks' vanilla sweet cold foam, which gives it that soft serve ice cream texture and flavor. So, if you want to make your own vanilla cold foam at home, combine your choice of milk, powdered sugar, and vanilla extract in a cup and mix together with a hand frother ($8, Amazon).
You could also blend this RTD Paradise Drink with some ice and vanilla ice cream to make a Dole Whip-inspired smoothie. With so many ways to enjoy this tropical drink, I think I may have just found the perfect sip for the summer.