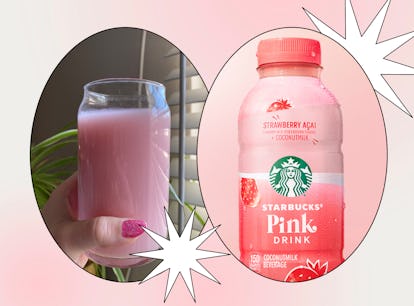 I Tried Starbucks' Ready-To-Drink Pink Drink & It's So Barbiecore
Here's how it compares to the OG.
For seasonal drinkers, spring is a time to ditch your warm lattes for something more refreshing like a Pink Drink at Starbucks. Featuring a strawberry açaí base with coconut milk and freeze-dried strawberries, the fan-favorite sip was originally a secret menu item before Starbucks officially added it in 2017. You can order a Pink Drink in store or on the Starbucks app, but starting in April, you can also pick it up from the grocery store. Starbucks is launching a ready-to-drink version of the Pink Drink this month, and I got to try it to see how it compares to the in-store sip.
The Pink Drink isn't the only new addition to Starbucks' ready-to-drink line. They've also added a version of their Paradise Drink as well as Frappuccino Mini cans of their chilled coffee that comes in caramel and white chocolate mocha flavors. As a Starbucks lover, I want to try it all but the Pink Drink piqued my interest the most. I have to admit, I wasn't a huge Pink Drink fan until recently. I mostly go for a caramel macchiato, chai latte, or matcha latte, because I need the caffeine. However, I tried the Pink Drink when I was coming up with go-to Starbucks orders for each of the Taylor Swift eras and absolutely loved it. You could say I'm in my "lover" era for the Pink Drink, so I had to see if the bottled version is just as tasty.
Starbucks' Ready-To-Drink Pink Drink Review
The three main ingredients of a Pink Drink fresh from Starbucks are the strawberry açaí juice. coconut milk, and freeze-dried strawberries. Unfortunately, the ready-made version is missing the freeze-dried strawberries, but they're mostly for aesthetics anyway. Also, if you're drinking straight from the bottle, you wouldn't notice they're missing.
I poured my drink into a glass so I could see the gorgeous pink shade of the drink. It definitely is as Insta-worthy as the Pink Drink you get at Starbucks, so points for that. Pink is having a moment with the Barbie movie ensuring that Barbiecore is going nowhere in 2023, so the Pink Drink is definitely on trend and as colorful as the secret menu Barbie Frappuccino.
Of course, looks aren't everything, and my short version for how the ready-to-drink Pink Drink tastes is that it's sweet. It's like a more concentrated version of the Pink Drink that you would get at Starbucks, so it's also thicker. I think serving it with some ice or adding in a splash of water would make it closer to what you get at Starbucks, but this is supposed to be ready-to-drink without having to make any adjustments or pouring it into a cup of ice.
It might be a bit much if you don't have a sweet tooth, but Pink Drink fans will love this easily accessible version of their go-to order. It's a refreshing sip for when you need a mid-day pick-me-up, and I can definitely see this as a cute drink to bring along on a picnic or used as a mixer for some summertime cocktails by the pool. Whether you grab a bottle to-go heading to the Barbie movie in July or getting ready for the Eras Tour at home, it's great for whenever you're thinking pink.