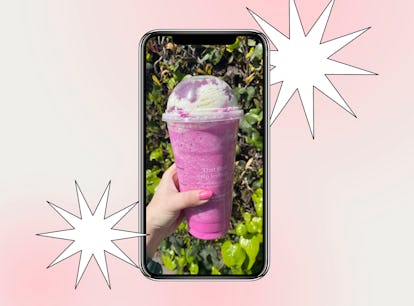 How To Order The Secret Barbie Frappuccino From Starbucks
This Barbie is an $8 Frappuccino.
Rachel Chapman/Elite Daily
If the Barbie posters have taught us anything, it's that Barbie is everything. In fact, 2023 is about to get even more Barbiecore as the Barbie movie's release date approaches, and what better way to celebrate than with a bright pink drink? No, I'm not talking about Starbucks Pink Drink that's already on the menu. Instead, this Barbie-inspired secret Starbucks drink is a neon pink Frappuccino that looks just it belongs in the Malibu Dreamhouse. After seeing this gorgeous order on TikTok, I had to try the Barbie Frappuccino from Starbucks for myself.
The Barbie drink I tried was a 2023 version of the original secret menu Frappuccino from 2022. ICYMI, the OG Barbie Starbucks drink is a venti Vanilla Bean Crème Frappuccino with half and half that you customize with three pumps of vanilla syrup, three pumps of raspberry syrup, and dragonfruit inclusion blended in. The dragonfruit is what gives the drink it's hot pink Barbiecore color. Unfortunately, Starbucks just discontinued their raspberry syrup, which makes it harder for anyone trying to replicate that specific version of the Barbie Frappuccino.
Luckily, the flavor isn't what makes this a Barbie drink. It's the signature pink shade, which you can still get with the right Barbiecore Starbucks drink ingredients. Here's exactly what I ordered for a Barbie Frappuccino and what I thought of the taste.
Barbie Frappuccino From Starbucks Review
When ordering a Vanilla Bean Crème Frappuccino on the Starbucks app, you can't add in dragonfruit inclusions, so this is a drink you'll need to actually go to the store to order. Since my store was out of the raspberry syrup, I went with just the three pumps of vanilla and dragonfruit inclusion blended together. TikToker @la.natalie23 said that her version with the raspberry syrup tasted like vanilla bean and she couldn't taste the raspberry at all, so I figured it wasn't that important anyway. My barista did offer to add in the Mango Dragonfruit Refresher juice instead of the raspberry, but I didn't want to mess with the flavor too much.
Once I took a sip, I'm glad I stuck with just the vanilla. TBH, if there were any other flavors added to my Frappuccino, it might be undrinkable. As it was, the Barbie Frappuccino was super sweet, and I don't think the three pumps of vanilla are necessary when the drink already comes with vanilla bean powder. The only thing that I think is necessary is the dragonfruit inclusions both blended in and added on top of the whipped cream, as these details really made this drink gorgeous and Barbie-worthy. I was worried it wouldn't be as pink as I saw on TikTok, but the minute my barista handed me my drink, I was in shock. This Barbie drink really is everything and I am just Ken.
For taste, I would give this drink a 2 out of 5 just because of how sweet it was. For looks, this picture-perfect drink is getting a perfect 5 out of 5. If I were to order it again, I wouldn't add in the extra pumps of vanilla and would just get the dragonfruit inclusion. I also would stick with regular milk. All together, these substitutions would definitely make the drink more affordable. The vanilla syrup and the half and half were an additional $1.50. If I were to add in the raspberry syrup, it would have been $2.30 of extras that weren't necessary.
My drink ended up being around $8, which is too expensive for a Starbucks drink IMO. With just the dragonfruit inclusion, it would have been a much more affordable $6, and you'd still get the fruity flavor and hot pink aesthetic that makes it the perfect Barbie sip.