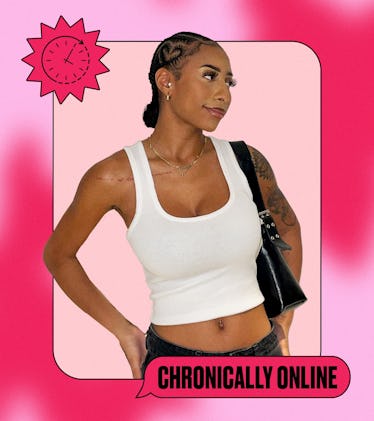 An Astrologer On A Solo Vacation In NYC Tracks Her Screen Time
It was a week filled with ASMR on YouTube, Barbie-themed IGs, and Google Maps.
Chelsea Jackson/Elite Daily
In Chronically Online, Elite Daily asks people to get real about their phone habits, tracking their screen time over the course of a week. This week, Elite Daily's resident astrologer, Chelsea Jackson — who traveled from Houston to NYC (where she attended a screening of the Barbie movie) for an impromptu vacay — shares the apps she used, the legit hoursss she spent scrolling, and the Internet rabbit holes she went all the way down.
I was born in 1996, which means that I was born the final year of the millennial generation. Growing up in Gen Y meant that I was mainly raised by Disney Channel, Myspace, and of course, my hot pink Motorola Razr. I spent my days after school copying and pasting HTML codes into my Myspace profile so that it reflected my ever-changing mood (I'm a Cancer rising), and I even taught myself how to edit and upload photos I took on my Nikon Coolpix camera all before my 14th birthday. When I reflect on all the time I spent glued to a computer screen throughout my most formative years, my obsession with staying plugged in to the world via my iPhone 13 makes a lot more sense. The habits I innocently created as a pre-teen have not only stuck with me as I've transitioned into adulthood, but they now consume most of my time.
While mobile devices have recently implemented screen time limits across social media apps, my desire to seek relief by refreshing my FYP is much stronger than any "You've reached your daily limit" notification could ever be. Fortunately, when I travel, I tend to spend less time scrolling through Twitter threads and much more time actually living my life. This week, I briefly spent some time in NYC before attending a Barbie movie-themed event that took up an entire day, so naturally, you'd assume my screen time would be much less. And you'd kind of be right... but it was still way too high.
Occupation: Staff Writer, Elite Daily
Age: 27
Location: Houston, Texas
Weekly Average (July 16-July 22): 11 hours, 47 minutes
Day 1: Prepping & Packing For Vacation
Sundays are usually my relaxation days. I sleep in and only leave the house to grocery shop, and the rest of the day is spent doing laundry, lounging around the house, and of course, scrolling on Twitter. This Sunday in particular was slightly different, since I was mostly preparing for my trip to NYC. Of course, I still managed to spend some time on TikTok (1 hour and 55 minutes, to be exact, mostly on #AstroTok, #ComedyTok, and... whatever corner gives you relationship advice), and watched one of my favorite podcasts, Fly on the Wallin, on YouTube.
As someone who lives alone, I like to keep plenty of background noise in rotation to drown out my intrusive thoughts, and one of my favorite ways of achieving this is by listening to ASMR (don't worry, not the weird eating/chewing kind). My go-to ASMR creators are certified Reiki practitioners, so they mainly do energy healing and chakra cleansing while speaking in a calm, relaxing voice. It has me hooked. Since Sundays tend to be my days to recharge, I spend a large part of the day listening to them as I complete my tasks. Somehow, I managed to spend a whopping seven hours and 51 minutes letting these videos play. It may sound like a lot, but most of these hours were accrued when I was asleep, which is something I love to do on Sundays.
Most Used Apps: YouTube, TikTok, Twitter
Screen Time: 13 hours, 9 minutes
Day 2: Traveling To NYC
On Monday, I woke up early to head to the airport. Houston's airport is huge and always wildly busy, so I like to get there early. I made sure to charge up all of my devices before calling a Lyft, and I got to the airport in enough time to hang out a bit before the flight. Before boarding, I made sure that the latest installment of my fav astrology podcast (The Astrology Podcast) was fully downloaded so that I could listen to it while en route to NYC, as well as Dominic Fike's new album, Sunburn. (So good.) I lucked up with a window seat, toggled my phone to airplane mode, and let the album play all the way through during the three-and-a-half-hour flight. Zero skips.
Once arriving to NYC, I called a Lyft to take me to Manhattan, where I was staying for a couple nights before the Barbie pre-screening event. Somewhere between traveling from Houston to NYC, I managed to still spend and hour on Twitter and 55 minutes on TikTok — typical. I'm pretty plugged in to the astro community on Twitter, and since there's always something new happening in the cosmos, it's easy to lose track of time.
Once I checked into my hotel, I went to grab some Thai food in Midtown and accrued about 35 minutes of screen time on Google Maps. Once I made it back to the hotel for the night, I spent three hours and 58 minutes on YouTube, listening to ASMR as I drifted off to sleep.
Most Used Apps: YouTube, Twitter, TikTok
Screen Time: 10 hours, 39 minutes
Day 3: Exploring NYC, Meeting Co-Workers, Thrifting
Tuesday was my only full day to explore New York, so I wanted to make it count. First, I took the train from Midtown to the East Village to grab some breakfast, relying solely on Google Maps to lead the way. From there, I walked down to SoHo to do a little thrifting. Afterward, I took the train back to Midtown to meet a couple of co-workers at the office for lunch. By the time I arrived, my phone percentage was on its very last leg, so I charged it at the Elite Daily office before walking with my colleagues to a restaurant around the corner. After we spent some time chatting and eating (I ordered a burger), I whipped out my almost-dead phone to navigate me back to the hotel.
After a brief recharge in my room, I hopped on the train to Brooklyn, where I did a little more shopping and exploring. While taking the train back to Manhattan, I accidentally got off at the wrong stop (typical) and ended up in Chinatown, where I popped into a sushi restaurant I sadly don't remember the name of. Best. Sushi. Ever. As the bill came, I realized my phone was on 7%, and I still had to rely on it to get me back to Midtown. After (briefly) panicking, I wrote down the names of the trains I needed to take and the address of my hotel on the back of the receipt before heading out. Despite usually being terrible at directions, I somehow managed to make it back to my hotel without using my phone.
By the end of the day, I had spent two hours and 42 minutes on Google Maps, two hours on TikTok, and three hours and 41 minutes on YouTube. How do New Yorkers make it all day without their phone charger?
Most Used Apps: YouTube, Google Maps, TikTok
Screen Time: 12 hours, 36 minutes
Day 4: Preparing For Barbie
I knew I had a long day ahead of me, so I got up at 7:30 a.m. to make sure I had plenty of time to charge my devices, pack everything I needed before my Barbie-filled day. As I left the hotel, I plugged in the address to the bus stop into Google Maps and walked down W 38th Street while Fletcher's iconic EP You Ruined New York for Me blasted in my AirPods. Since this was my first time ever attending a press event, I skipped breakfast to ensure I'd be there on time and opted for an orange juice from the corner deli (an idea I regretted later). As I plopped down in my window seat, I queued a few more songs on Apple Music and swiped through the Instagram stories of some of my friends back in Houston and responded to a few DMs.
As I arrived at the Ocean Casino Resort in Atlantic City, New Jersey, where the festivities took place, I, of course, used this time to quickly charge my phone because I knew it would be used very heavily to document the Barbie-themed pool party that was scheduled to start at 2 p.m. At the event, I did plenty of mingling with some of the other writers and exchanged IG handles and phone numbers. Later that evening, we all met up again to take photos in our Barbie-themed outfits before entering the movie theater. It was all very pink. After the movie, we headed to the Barbiecore after-party, where we sipped Barbie-themed drinks while Katy Perry's "Teenage Dream" blasted through the speakers. Since it was such a busy day, my screen time was less than it had been all week (but still way too high), even with scrolling through my phone before calling it a night. I made sure to send a few photos of my outfit to friends, my mom, and my failed talking stage. IDK if it was the Barbie movie inspo or Venus retrograde, but I was definitely feeling myself.
Most Used Apps: YouTube, Instagram, Messages
Screen Time: 9 hours, 55 minutes
Day 5: The Long Journey Home
Thursday was a little intense. I knew I had a long day of traveling ahead, so I made sure to get up at a reasonable time to get my stuff together before brunch. I used my phone to snap a few pictures of my ocean #views (as a Florida native currently living in land-locked Houston, the withdrawals are real), and then headed to the gift shop to buy my friend back home a souvenir before eventually heading to the airport.
When the time came, I quickly looked on Google Maps for a corner slice to grab before requesting a Lyft. As I waited for my ride from W 45th to LaGuardia, I noticed my battery percentage was a little lower than I'd expected, and after the hourlong ride to the airport (traffic was hectic), Apple Music and TikTok had drained my battery to a measly 20%. Unfortunately, I didn't make it to the airport in enough time to charge up, so I toggled my phone to low power mode and boarded the plane, and sent my mom a quick text assuring her that I was onboard. Once we arrived in Houston, I used my almost-dead phone to call myself a Lyft home. Despite a day of traveling from New York back home to Texas, I had still managed to spend an hour on Instagram and and hour using Messages. Unbelievable!
Most Used Apps: YouTube, Messages, Instagram
Screen Time: 9 hours, 21 minutes
Day 6: Post-Trip Depression, Contemplating An Impulsive Move To NYC (It Can't Be That Expensive, Right?)
Let's just say I'm not proud of how much I was on my phone on Friday. After traveling the entire day before, I made sure to sleep in before unpacking my suitcase and doing some laundry. I spent a large part of the day putting together a TikTok video of the Barbie event, uploading photos of the trip to Instagram, and catching up on trending topics on Twitter. As I chatted with my mom on the phone about my trip later that day, I explained to her why I thought living in NYC was a way better option for me than living in Houston. Not only had I made a ton of new friends that live in the city on the trip, but I got lost using the subway and still somehow managed to find my way back to my hotel! That had to be a sign that I needed to sell my car and pack my bags. An astrologer/writer like myself would fit in better in the Big Apple, anyway, right?
After our convo, I did some journaling and then re-opened TikTok for a 30-minute dopamine hit. Of course, I was still seeing New York content all over my FYP. I spent the rest of the day toggling between YouTube and TikTok as I tidied my apartment.
Most Used Apps: YouTube, TikTok, Twitter
Screen Time: 15 hours, 29 minutes (oof)
Day 7: Grocery Shopping, Venus RX, More Doom-Scrolling
Saturday, I decided to actually leave my apartment. I headed to H-E-B (sadly, no Google Maps needed) to stock up on some food for my very empty fridge. I also did a little research on Venus retrograde after seeing the fourth celeb breakup go viral on Twitter. After falling down the rabbit role of Venus retrograde scandal stories, I switched over to Tumblr for a dose of angsty girl inspo. Later that evening, I finally started watching The Bear (Carmy's so Virgo-coded it's ridiculous), and ended my night listening to my go-to ASMR videos. It had been a very busy week, and as someone with not one but two Cancer placements, my social battery was completely depleted. I called it a night around 10:30 p.m.
Most Used Apps: YouTube, Twitter, Tumblr
Screen Time: 11 hours, 20 minutes
Final Thoughts: I'm Moving To New York
I doubt that I'd spend less time on my phone if I lived in NYC (especially considering the subway requires Google Maps for transplants like me), but I'm certain I'd spend less time in my apartment and scrolling on Twitter. I also met some of the nicest people during my Barbie-centered trip, and it was incredibly inspiring to be able to socialize with so many of my peers. There aren't too many people in Houston that work in my field, so it was great to be around other writers for a change. Also, solo travel is great. I loved exploring a city all by myself, and getting to do whatever I want, whenever I want. I do realize that I could be spending much less time on my phone while I'm on vacation, and more time out exploring — which is something I'll keep in mind the next time I'm out of town.
It's very clear to me where most of my screen time goes, and that's TikTok. I knew it was bad, but I didn't know it was... this bad. It also doesn't help that I live alone, so I'm constantly seeking comfort and company from the strangers on my FYP. My social circle in Houston is pretty small, which is probably the reason for my scrolling habit. While I'm not exactly sure how to change that as someone who works remote in a city that's very spread out, I can try to find other things to do aside from opening and re-opening the app throughout the day. My obsession with ASMR on YouTube, however, is definitely here to stay.