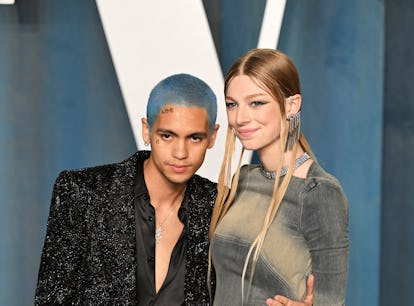 Dominic Fike Explained Why He & Hunter Schafer Broke Up
"Now I'm trying to be abstinent, which is really nice."
Karwai Tang/Getty Images Entertainment/Getty Images
The new-love euphoria has worn off for Dominic Fike and Hunter Schafer. A year-and-a-half after they first sparked rumors that they had begun seeing one another, Fike confirmed that the relationship had come to an end. The Euphoria star also explained why the romance fizzled, and how their love story inspired his new album Sunburn.
Fike opened up about why fans hadn't been seeing Schafer and him together as much recently during a July 5 interview on Apple Music, revealing that the pair did indeed break up. He said the breakup stemmed from his own issues with codependency, as he felt he needed Schafer to constantly be around him. "That has actually bled into my romantic relationships, that kind of dynamic," he admitted. "And it is often the cause of the end of my relationships." When Fike realized the issue, he decided to try embracing being alone: "I'm just done being in relationships right now."
The actor/singer expanded on this realization in a July 6 Los Angeles Times profile. He shared he was always a "relationship person" because he loved "being able to tell somebody everything. I can't even call my mom about half the stuff I worry about."
Although his time with Schafer was artistically inspiring for Fike, who confirmed the love songs on his new album are about his ex, he began to realize he was no longer able to just be by himself. "I could make music around her, which was crazy," Fike said. "I was looking through songs the other day and found one that I made with her. I was like, 'Man, that was so cool.' But the fact of me saying that — of being uncomfortable being alone — that's a bad thing. So I decided to just be alone for a while."
"Now I'm trying to be abstinent, which is really nice," Fike said of his current love life.
Fike and Schafer's romance blossomed at the same time as their Euphoria characters, when Season 2 of the show aired in early 2022. Fike's newly introduced character Elliot was part of a complex love triangle with Schafer's Jules and Zendaya's Rue. While their characters were hooking up on TV, fans started speculating the Fike and Schafer were also getting romantic off-screen.
In February 2022, Fike shared a photo of the two kissing. About three months later, Fike officially confirmed he was dating Schafer by calling her his girlfriend and saying he was "very much in love" with her in a GQ profile.
Despite the breakup, both Fike and Schafer will be working together again on Euphoria Season 3, although it's unclear when production will begin on that.