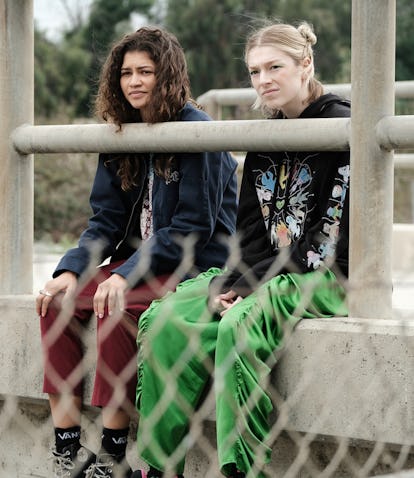 Euphoria Season 3 Will Reportedly Have A Time Jump, So No More High School
The show has always felt too grown-up for high school anyway.
HBO
The teens of East Highland will keep on chasing that high, because Euphoria is officially getting a third season. HBO announced the renewal on Friday, Feb. 4, 2022 right in the middle of Season 2, which premiered on Jan. 9 and ended on Feb. 27. Since most networks wait until a season ends to pick up another season of a series, this relatively early renewal confirms just how popular the trippy teen drama is. As fans wait for Euphoria Season 3, here's what to expect in terms of a potential release date and cast shake-ups.
The upcoming third season will likely continue to follow the melodramatic misadventures of the East Highland high schoolers, including Rue, Jules, Maddy, Cassie, Nate, Lexi, and Fez. Interestingly enough, HBO's renewal arrived just a few days after a troubling Season 2 episode aired, which caused many fans to speculate about Rue's fate. Although Euphoria has an ensemble cast, Rue is central to the series, so it would be pretty hard to imagine a new season that doesn't include her. Thankfully, Rue made it out of Season 2 alive, and the Season 3 pick-up means fans can look forward to more Rue soon enough. However, one rumored change about the new season could mean we'll see Rue in a completely new light.
Here are all the details we know about Euphoria Season 3 so far.
Euphoria Season 3's Predicted Time Jump
Ever since Season 2 ended, there have been rumors that the third season could go all in on a major time jump. Zendaya first hinted at the idea by revealing she hopes to "explore the characters out of high school" in an interview following the season. Then, Euphoria costume designer confirmed there's been internal discussions about implementing a five-year time jump in Season 3 during her April 4 interview with Vogue. The reported time jump would age the main characters up to their early 20s.
Euphoria Season 3 Release Date Prediction
It's no secret that Euphoria fans have had to practice a lot of patience in the past, and unfortunately the break between Season 2 and Season 3 sounds like it may be as massive as the show's two-year hiatus after Season 1 aired. Due to lockdown throughout 2020, Euphoria Season 2 was drastically delayed, until it finally hit the air a full two-and-a-half years after the first season premiered. Although production isn't limited by lockdown this time, they are restricted by Zendaya's booked schedule.
Although a release date for Season 3 hasn't been officially confirmed, fans think it won't come out until 2024 due to a tweet Zendaya liked claiming that as the release year.
Costume designer Heidi Bivens provided a clearer release window during her appearance on The Run-Through with Vogue podcast, confirming that production for Season 3 will begin in June 2023. If all goes smoothly, that should tee the series up for a return in early to mid-2024.
Euphoria Season 3 Cast Prediction
Obviously, the show's main cast will most likely all be back for Season 3, with one exception. A few months after Season 2's finale, Barbie Ferreira announced she would not return as Kat for Season 3.
Euphoria hasn't revealed if new characters will be added to shake things up in the new season, like how Dominic Fike's Elliot stirred up some romantic drama in Season 2, but more details will come out as the production gets further along. But speaking of Fike, he was the first actor to confirm he'll be back for Season 3, so get ready for more Elliot.
Euphoria Season 3 Trailer Prediction
Don't expect any footage from Season 3 to appear any time soon. Hopefully, as filming gets underway this summer, a first look will arrive before the end of the year.
This article was originally published on