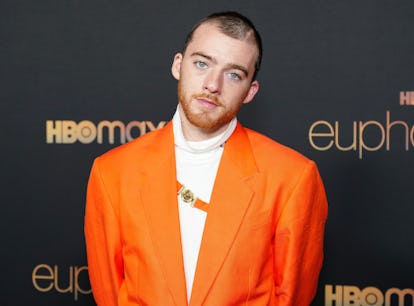 Zendaya, Sydney Sweeney, & More Euphoria Stars Honor Angus Cloud
"Words can't really capture how magical of a person he was."
Jeff Kravitz/FilmMagic, Inc/Getty Images
Angus Cloud, best known for his role as Fez on Euphoria, has died at age 25. On July 31, TMZ first reported the late actor died at his family's home in Oakland, California. That same day, Cloud's family confirmed the news in a statement to Variety. "It is with the heaviest heart that we had to say goodbye to an incredible human today," they told the outlet. "As an artist, a friend, a brother and a son, Angus was special to all of us in so many ways."
Cloud's family did not reveal the cause of his death; however, in their statement, they noted his father died the previous week and he "intensely struggled with this loss." "The only comfort we have is knowing Angus is now reunited with his dad, who was his best friend," they wrote. "Angus was open about his battle with mental health and we hope that his passing can be a reminder to others that they are not alone and should not fight this on their own in silence. We hope the world remembers him for his humor, laughter and love for everyone. We ask for privacy at this time as we are still processing this devastating loss."
The Oakland native rose to fame with his acting debut on Euphoria in 2019. There, he played Fez (also known as Fezco), a soft-spoken drug dealer who's close friends with Zendaya's character, Rue. Over the series' two seasons, Cloud's portrayal won audiences over. From his syrupy drawl to his relatable introverted personality, which was steadily being opened as the show explored his blossoming relationship with Lexi (played by Maude Apatow), his character was one of many impressive forces that drove the show's success.
Following the announcement of Cloud's death, several Euphoria co-stars shared their tributes on social media. Zendaya wrote a lengthy post about him on Instagram, and her words are a true testament to their friendship. "I'm so grateful I got the chance to know him in this life, to call him a brother, to see his warm kind eyes and bright smile, or hear his infectious cackle of a laugh," she captioned the post, which features a picture of Cloud smiling.
Zendaya shared she'll cherish the "boundless light, love and joy" he showed to everyone, and that her heart goes out to his family.
Co-star Sydney Sweeney also mourned Cloud with a photo carousel on Instagram. "Angus you were an open soul, with the kindest heart, and you filled every room with laughter," she wrote in the post, nearly each slide featuring a photo of her embracing Cloud with a wide smile. "This is the hardest thing I've ever had to post, and I'm struggling to find all the words. You will be missed more than you know, but I'm so blessed to have known you in this lifetime."
Hunter Schafer remembered the good times she had with Cloud under a Polaroid of him smiling. "Angus was a sunshine," she wrote. "To have known his warmth, his light, and his love was nothing short of a gift. i'm so grateful to have shared so many enormous fits of laughter, so many sweet moments, and the joy of getting to make something together that we loved so much."
Maude Apatow, who played the love interest of Cloud's character in Season 2, said that working with him was one of "the greatest joys and blessings of my life." "I will love you forever," she wrote.
Dominic Fike, who starred as Elliot, honored Cloud on his current tour. During his Houston show on Aug. 1, the singer-rapper addressed his costars' death while somberly strumming his guitar. "I guess I lost a friend of mine recently. He died the other night, which is wild to say because I don't deal with grief often," he said. "I haven't had a lot of death happen around me, and this was the first time I feel like I knew the person well enough to cry over and feel something. It was weird."
Fike continued, revealing he received a call about Cloud's death while running errands. His passing left a mark on him, so much so that he began to "feel really small" when thinking about the late actor. He ended his dedication by describing Cloud's "spark," similarly echoing Zendaya's words about how infectious his personality was. "He would light up a room, any room he walked in. He's a f*cking good dude. I felt stupid coming out here. Like, this is so stupid, doing a show and being happy. But he would've wanted me to do that. He would've been like, 'No, do the show, have fun.'"
Barbie Ferreira, who formerly played Kat in the series, also shared her condolences on Instagram. "I love you so much. you will be missed tremendously," she wrote.
The show's creator, Sam Levinson, shared a statement with The Hollywood Reporter. "There was no one quite like Angus. He was too special, too talented and way too young to leave us so soon. He also struggled, like many of us, with addiction and depression. I hope he knew how many hearts he touched. I loved him. I always will. Rest in peace and God Bless his family."
Mason Shea Joyce, who played a young version of Fez in the series, also mourned Cloud. "Angus had a really sweet smile and generous soul. He was kind and supportive, never too busy for a quick chat or pep talk. It was an honor to play young Fezco," he said to THR. Joyce carried his praise of the late actor to Instagram, writing: "You were as real as they get. Rest in paradise."
The condolences continued to pour in. Drake, one of the show's executive producers, described Cloud as a "good soul" on his Instagram stories.
Other co-stars Storm Reid, Eric Dane, and Alexa Demie also paid tribute to Cloud on their Instagram stories. Reid shared a heartwarming scene between Fez and Lexi from the second season, while Dane posted a closeup shot of the actor.
Javon "Wanna" Walton, who played his younger brother Ashtray, praised Cloud on his stories by calling him his "forever family." He also shared a touching photo of him embracing the actor on Instagram, writing: "Rest easy brother."
The show's official Twitter account also sent their condolences, lamenting him as an "immensely talented and a beloved part of the HBO and Euphoria family." "We are incredibly saddened to learn of the passing of Angus Cloud," they wrote. "We extend our deepest condolences to his friends and family during this difficult time."
Colman Domingo, who starred as Rue's Narcotics Anonymous sponsor named Ali, posted a group picture with Cloud on Instagram. He also echoed Joyce's previous words, describing the late actor as "real, original, and sweet" in his stories. Domingo ended his tribute by encouraging people to "check on loved ones."
Katherine Narducci, who portrayed Fez's grandmother in Season 2, mourned the actor on Twitter. "You were a gentle beautiful soul. You exited to soon," she wrote, alongside a sweet behind-the-scenes photo with Cloud.
She also shared the photo on Instagram, and described Cloud as "one of a kind."
This article was originally published on