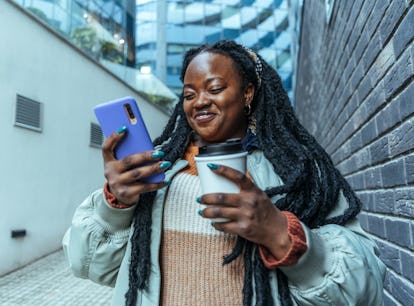 I Tried 5 Friend-Meeting Apps To Find My New Tribe In A New City
Here's how they all stack up.
Getty Images
I'd always been a Florida gworl. Born and raised in Jacksonville, I had a tight-knit circle of friends who were, shocker, also based in Florida. But in 2021, I decided to trade in my flip-flops for cowboy boots to move to Houston, Texas, a casual 800-plus miles away from home. My then-partner — whom I started dating a month before the panini and Miss Rona did their thing — already lived there, so that was one little nugget in the city's favor; it was also a chance to really change things up. The thing I was most nervous about was finding a new tribe. Making friends as an adult is hard! But now, nearly two years since I made The Big Move™, I finally found one really fun way to meet new people and (hopefully) make new friends in the process: apps.
Although relationship-building apps are far from a new concept, dating apps and I have historically gone together like Rihanna and new music — it's just not happening right now — so I'd never considered friendship apps until recently. Working remotely doesn't allow for much socialization during normal business hours, and meeting new people IRL after work or on weekends isn't as easy as it was pre-2020. Trying out friend-meeting apps from the comfort of my couch seemed like a more stress-free option than, say, going outside, so I took the plunge without too many reservations.
Over the course of five weeks, I tested out five different popular apps to find friends — Bumble BFF, Hey! VINA, Nextdoor, Clockout, and Wink — to see which ones are actually the best for expanding your social circle. As I experimented with a different app each week, I considered everything from how easy they were to use (FYI, if you're familiar with Tinder's interface, you'll have no problem navigating most of these) to how it pairs you up with another person. Below, you'll find my reviews and ratings for each so you can decide whether you, too, should try finding your new community with just a few taps or swipes on your phone.
Final Thoughts
After more than a month of experimenting with friend-meeting apps, here are my rankings, from best to worst:
Hey! VINA
Bumble BFF
Clockout
Nextdoor
Wink
Hey! VINA and Bumble BFF proved to be the best options for making connections, with the former juuust edging out the latter. They both focus on *your* personality and *your* interests and have millions of users, so the pools of potential besties are incredibly large. Given the welcoming atmosphere of Hey! VINA, I actually plan to continue to use it beyond my little experiment; the users I've chatted with have been so friendly and open to connecting IRL (once all parties are comfortable, of course), so there's a lot of friendship potential.
Nextdoor and Clockout focus much less on building interpersonal relationships, but they seem like they're great for connecting with neighbors or fellow post-college grads, should that be your brand. And Wink, oh Wink... the Tinder-like nature of it just didn't work for me.
Five apps later, I still haven't found my new tribe yet — hey, it's only been a month — but in the nearly two years since The Big Move™, I feel like I may just be a few steps closer. And I have a couple of apps to thank for that.