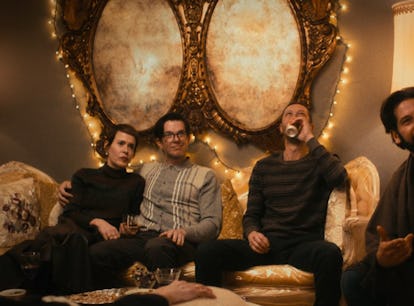 The Bear Season 2 Cameos Ranked From Appetizer To Main Course
The way Jamie Lee Curtis ATE!
Hulu
The Bear served up a lot more than just beef sandwiches in Season 2. As the culinary drama got more and more heated, a never-ending parade of famous faces popped up. Each celebrity cameo was a surprise treat, but some had more impact than others. Once you've devoured the whole season, let's look back on which guest stars stole the show.
Spoiler alert: This post contains spoilers from throughout The Bear Season 2. The first season of The Bear featured a few standout cameos — Joel McHale showed up as Carmy's demanding old boss, Molly Ringwald appeared at his Al-Anon meeting, and Jon Bernthal was memorably revealed to be Carmy's late brother Mikey in flashbacks. But it turns out, that was just an appetizer. Season 2 went all in on its A-list guest stars, with Episode 6 in particular serving up an entire cast of famous actors in important new roles.
Some of these characters weren't much more than quick cameos that help build up one of The Bear's leads, while others were much meatier, and could even return in future seasons with important storylines. If you're still thinking about Will Poulter's perfect dessert dishes or Gillian Jacobs' 1989 shirt, you'll understand why all of these Season 2 cameos were so delicious.
7. Gillian Jacobs
Season 2 finally put a face to a name that has come up before. Gillian Jacobs briefly appears as Richie's ex-wife Tiffany to do the unthinkable: turn down Eras Tour tickets. Her cameo in the present-day is short, but she has more screen time in Episode 6's flashback episode, in which she navigates an awkward Christmas dinner while pregnant and still with Richie. It's definitely nice to finally see Tiffany, but Jacobs' role wasn't exactly a major one this season.
6. Olivia Colman
Olivia Colman's scene as the renowned Chef Terry was short, but powerful. Not only did she peel mushrooms, she also peeled back Richie's stubborn exterior and gave him the encouragement he needed to finally commit himself to the restaurant business and find his purpose in work. Her speech was definitely a highlight of the season, even if it only lasted a couple minutes.
5. Will Poulter
Will Poulter's role was similar to Colman's. As Luca, a brilliant pastry chef based in Copenhagen, he served as a mentor to Marcus, demanding that he perfect his techniques. What made Luca such a standout character is how he shows different sides to himself in such a short time. At first, he comes off as harsh and cold, but after getting to know Marcus better, Luca opened up about how he struggled to become the best he could in the cooking world, and inspired Marcus to do the same.
4. John Mulaney
The Berzatto extended family got even more extended in Episode 6's flashback, revealing Carmy's cousin Steve, played by John Mulaney, is basically the family's go-to punching bag. True to form, Mulaney's role was mostly comic relief, but he did steal the show with one emotional moment as he said grace before Christmas dinner, calming the family down after a tense fight.
3. Sarah Paulson
Cousin Steve is really only a Berzatto by marriage. His wife, Michelle, is actually related to Carmy and his family by blood, which is evident in her dominant personality. Sarah Paulson exuded power in her guest role, and it's a part that could very well return in future seasons given Michelle's bond with Carmy. She offered her cousin a place to stay in New York City because she knew living at home would mess with his mental health. It's clear she cares deeply for Carmy, maybe more than any other member of his family.
2. Bob Odenkirk
If Season 2 of The Bear had a villain, it would be Uncle Lee. The Christmas dinner revealed that the previously unseen Berzatto family friend had a knack for getting under people's skin, especially Mikey's. Lee and Mikey's dinner-table fight was one of the scariest moments of Season 2, and seemed to foreshadow that Lee may have been a driving force in Mikey's death. Oh, also Uncle Cicero revealed to Carmy that Lee is one of the investors in The Bear, so it's likely he'll reappear in future episodes to wreak more havoc.
1. Jamie Lee Curtis
The Berzatto matriarch finally has a face, and it's Jamie Lee Curtis'. Without a doubt, the most important guest star in the second season was Curtis as Donna Berzatto, the temperamental mother of Carmy, Sugar, and Mikey, whose capricious behavior sheds so much light on how the three siblings became who they became. Carmy's obsession with getting everything perfect in the kitchen comes from his mother's erratic cooking methods. Though the show doesn't say it, Donna seems to have some mental health struggles of her own, which may be part of why she's kept herself distant from Carmy and wasn't able to bring herself to go to his restaurant opening.
Since her final scene confirmed she's alive and still interested in being a part of her children's life — even if it's hard for her — it feels like a safe bet that Donna will show up again in future episodes.