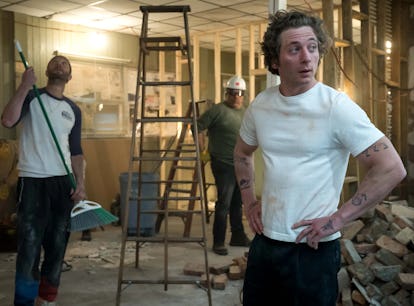 The Bear Captured The Pure Swiftie Experience & The Taylor Moments Aren't Done
"That's not the last of her, either. I'll tease that out."
Hulu
The Bear added a pretty surprising ingredient to its menu in Season 2: a heaping helping of Taylor Swift. References to the superstar were sprinkled throughout the season as tasty morsels for Swifties, and then the main course finally arrived towards the end of the season. As one main character has a major epiphany about his life, he blasts "Love Story" in his car and has a full-throated sing-along — an experience every Swiftie can relate to. And thankfully, Swift isn't departing from The Bear Cinematic Universe anytime soon, so fans can expect even more Taylor Swift moments in future seasons.
Spoiler alert: This post discusses details from the first seven episodes of The Bear Season 2. Richie's storylines haven't always been the easiest to watch, even by The Bear's oftentimes somber standards. In the first season, he was constantly beaten down by The Beef's evolving culture, and in Season 2, his attempts to find self-worth are even more desperate. But thankfully, he is eventually able to find some purpose in his life with a little help from Taylor Swift.
After finding his place at the restaurant and moving on from his ex, Richie lets out all of his emotions by belting "Love Story" in his car.
It's a moment Swifties everywhere will recognize, because who hasn't driven around blaring Swift's songs to get all their feelings out? While that was obviously the big musical moment of the season, Swift actually popped up in several other places as well. In Episode 3, Richie admitted he needed a break from Swift's music to his daughter Eva. Afterwards, Richie experienced the very relatable struggle of trying to buy Eras Tour tickets. And before he sang along to "Love Story" himself, the song was used in a montage of Richie starting to excel at his restaurant work.
There's also a small Easter egg even hardcore Swifties might have missed. In the Episode 6 flashback, Richie's ex is wearing a 1989 T-shirt.
And the love story is far from over. Ebon Moss-Bachrach, who plays Richie, promised that there will be more Swift moments in future seasons of The Bear. "That's not the last of her, either. I'll tease that out," Moss-Bachrach told Screen Rant.
Now, the only question left if which Swift classic will Richie be belting out next. I could see him entering his Lover era next season, but who knows? Thankfully, there's a Swift song for truly every occasion and emotion.