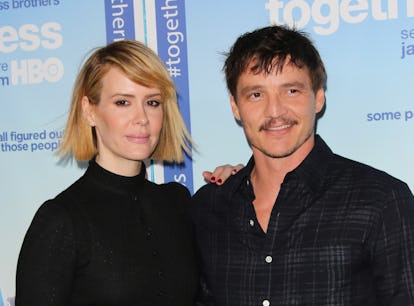 Sarah Paulson Doesn't Understand Why The Internet Calls Her BFF Pedro Pascal "Daddy"
Viewers might see daddy, but Sarah sees something a bit more wholesome.
Paul Archuleta/FilmMagic/Getty Images
The daddy-fication of Pedro Pascal has been a sight to see. What started as the actor's harmless nod to his own charm on The Last Of Us press tour has turned into a phenomenon, culminating in thirst edits that have inspired fans to revisit his acting catalogue. The fervor has skyrocketed to a level that even Pascal is admittedly trying to understand, and he's not the only one perplexed by his internet daddy status.
In Esquire's April/May issue starring Pascal, Sarah Paulson weighed in on the daddy discourse surrounding her best friend. "Knowing Pedro as intimately as I do, I would not want him to be my daddy, personally," she said. "I want him to be my pal that I can hang out with until all hours of the night, but Daddy?"
The duo have been close friends since their early acting days in New York. The two randomly met as teenagers in 1993 after bonding over meeting actor Woody Harrelson. That moment started Pascal and Paulson's three-decade friendship, and they haven't been shy in sweetly flaunting their BFF status on social media.
Paulson's response to her friend's parental nickname is interesting, considering she has her own "mommy" title online. The two even jokingly embraced their "mommy" and "daddy" nicknames in a recent SNL sketch, in which they played popular teachers who students deemed to be "iconic."
Elsewhere in the Esquire interview, Last of Us co-creator Craig Mazin theorized why viewers are fawning over Pascal's daddy appeal. "I think everybody either has fond memories of a positive father figure in their life or they have a terrible gaping space in their heart where a positive father figure ought to have been," he said.
In other words, we all want a daddy for one reason or another.