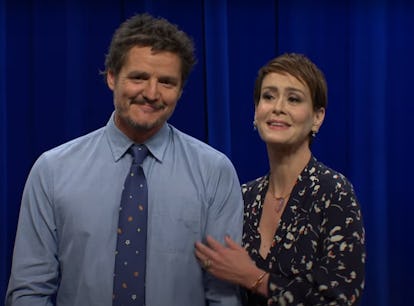 Pedro Pascal & Sarah Paulson Became Everyone's Daddy & Mommy On SNL
"He's daddy, and I'm mommy."
NBC
Pedro Pascal's fans have been calling him "daddy" for a while now, so of course he used his Saturday Night Live hosting debut to respond to his internet-given title. And he brought in his famous BFF to help him out. Pascal and Sarah Paulson gave a nod to the online fandom surrounding them in a hilarious SNL sketch all about how they've become "daddy" and "mommy" to a whole generation.
Chances are, you've probably seen a viral clip of Pedro Pascal calling himself "daddy" if you've been on any social media at all recently — whether it's the red carpet interview where he said, "I am your cool, slutty daddy," or the throwback clip of him saying, "I'm your daddy," to the camera during his Vanity Fair Lie Detector Test. Paulson has also famously embraced the loving "mom" title her fans have given her — add in the fact that she's been Pascal's best friend for decades, and they were the perfect duo to poke some fun at the internet's obsession with parental nicknames.
Pascal played a popular high school teacher who had become so popular that his students wouldn't stop making fancams of him. Despite his confusion, Pascal's character finally embraced his role as "daddy" after the students revealed another teacher, played by Sarah Paulson, was "mommy." "Fine, it's true," Paulson's character admitted. "He's daddy, and I'm mommy, and we're all a happy family."
The sketch was extra meta after fans pointed out Pascal has admitted to looking at Instagram fan edits of himself when feeling down and searching his name on Twitter in previous interviews.
It also served as a nice reminder of Pascal and Paulson's lifelong friendship. The two met as teenagers in New York in 1993 and became fast friends. That friendship continued to grow as the two were catapulted into fame, and fans always love whenever they post about one another on social media. They've also been each other's dates to various red carpet events throughout the years, providing so many cute moments together.
And now, Pascal and Paulson have taken yet another big step in their friendship, graduating from BFFs to "daddy" and "mommy" on SNL. We're all such lucky children.