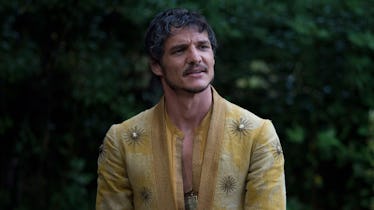 This Photo Of Pedro Pascal In 'Wonder Woman 1984' Shows He's A Far Way From Westeros
HBO
Wonder Woman 1984 may have finished their filming tour of Washington D.C., but the movie is still going strong. Three new cast members were announced last week, Natasha Rothwell, Ravi Patel and Gabriella Wilde, in "undisclosed roles." Another addition to the roster: Pedro Pascal of Narcos and Game of Thrones fame. His character is also still "undisclosed," but if the photo of Pedro Pascal in Wonder Woman 1984 Patty Jenkins posted this week is anything to go by, he's someone wielding a lot of power.
The 1980s era is famous for the rich getting richer and flaunting it wherever they went. It's a time when movies stated: "Greed is good." Men like Donald Trump with the shoulder-padded suits and flashy hotels took their model girlfriends out in stretch limos. The biggest show of power was flaunting your wealth.
In our first image of his character, Pedro Pascal is flaunting it for the whole world to see in a bespoke suit from the back of a chauffeured car. His tie and pocket square both a perfect silken match for each other. In keeping with the theme of other photos from the Wonder Woman sequel, the image of Pascal is framed in a 1980s era CRT television.
Check it out:
Michael Douglas, eat your heart out.
The question is, is Pascal a good guy or a bad guy? Some fans are suggesting Pascal isn't a bad guy here. Instead, he's playing Zeus, the same way the first Wonder Woman featured Ares living among humans. It would make sense with the caption, as it's hard to look away from the King of the Gods.
But there's something too sleazy about Pascal for his to be anything other than a bad guy. Could he be someone tied to Cheetah, who is played by Kirsten Wiig?
He could, as the version of Cheetah Wonder Woman 1984 is using is Barbara Ann Minerva. She's rich and hangs out with rich people. But her family is dead. She doesn't have anyone as a love interest. Pascal could be a character tied to Cheetah's personal life, but if he is, then it's someone not in the comics or re-purposed from another comic.
No, the smart money says this is a second contender to the Cheetah title, Sebastian Ballesteros. He's the only male Cheetah in the comic's history, an Argentine business tycoon, and a bad guy in his own right. He works as an agent of the Amazon's enemy, Circe, and is also her suitor. He usurped the Cheetah mantle from Minerva during his run in 2001's Wonder Woman Vol 2 (#170-#206), after convincing the Cheetah god Urzkartaga the reason Cheetah always fails to take down Wonder Woman is that women are weak. Minerva winds up killing him to get it back.
If that's who Pascal is playing, this would be an exciting decision and complicate Diana Prince's antagonist situation.
Fans will have to wait until next year to find out for sure who Pascal is playing.Wonder Woman 1984 arrives in theaters Nov. 1, 2019.