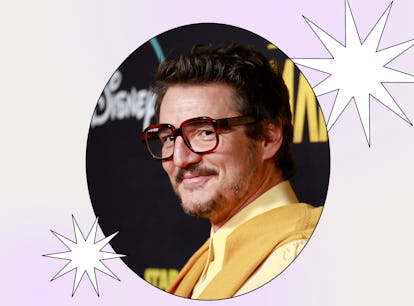 Pedro Pascal Is The Daddiest Daddy To Ever Daddy
Emma McIntyre/WireImage/Getty Images
Pedro Pascal has played so many iconic roles, but his best part of all is being the internet's daddy. No, he doesn't have kids, nor do his rabid fans look to him as a father figure. As Pascal himself put it, "Daddy is a state of mind." And it's a state of mind pretty much everyone finds themselves in whenever they see Pascal. The actor's daddy status is nothing new; to see how a random actor ascended to undisputed daddydom, here are Pedro Pascal's daddiest moments that continue to send the internet into a frenzy.
Though Pascal has been a working actor since the '90s, appearing in hit shows like Buffy the Vampire Slayer and The Good Wife, it wasn't until 2014 that he became a household name thanks to Game of Thrones. As the hotheaded, hedonistic Oberyn Martell — who wouldn't kick anybody out of bed — Pascal's daddy clout was starting to grow. But it wouldn't reach full daddydom until 2023, when he simultaneously starred in two hit sci-fi shows as a de facto adoptive father of a child in need. The popularity of both his The Mandalorian and The Last of Us roles, both of which showed Pascal's paternal side without sacrificing his gritty edge, put his daddiness over the top. Now, it's impossible to see any post about Pascal on social media without the word "daddy" getting attached to it. And these moments are the prime examples.
1. Daddy Joel
The Last of Us is supposed to be a heartbreaking story about two unlikely allies trying to survive a mushroom-filled apocalypse, but for many viewers, it's mainly just an excuse to watch Pascal be a hot badass. His role as the damaged survivor Joel is what sent the daddy discourse into overdrive, and launched a thousand thirst posts.
2. The Mandadlorian
Even with his face completely covered, Pascal made viewers swoon when he became The Mandalorian. The character's relationship with everyone's favorite tiny green boy, Baby Yoda, proved Pascal had what it took to be daddy. Plus, his self-described "bedroom voice" in the part is just simply too powerful.
3. Oberyn, The Bicon
Pascal first had fans sweating when he showed up in the middle of Game of Thrones as the licentious Dornish prince Oberyn Martell. Unabashedly bisexual, Oberyn hooked up with both men and women in various brothel orgies, scenes which first put Pascal on the map as a sex symbol.
4. The Daddiest Of The Daddies
Pascal's own winking responses to fans calling him "daddy" have only increased his daddiness. During a now-viral Instagram live clip, Pascal asked viewers to reassure him that he truly is the daddiest of the daddies.
5. "I'm Your Daddy"
But really, it was a moment from Pascal's 2022 Vanity Fair lie detector interview that truly made him daddy forever. When asked if he was a bigger daddy than his longtime friend Oscar Isaac, Pascal was quick to say himself, and then perfectly explained his daddy allure: "Daddy is a state of mind, you know?" And then, in a moment that has doubtless been rewatched millions of times, he looked right into the camera and said those three magic words, "I'm your daddy."
6. Dadurday Night Live
Of course, when Pascal hosted Saturday Night Live on Feb. 4, the show's writers jumped on the daddy train and wrote a sketch all about the internet's obsession. Pascal played a teacher who discovered his students had been making lovey-dovey TikTok edits of him. It ended with Pascal's character resignedly admitting he's daddy, and the actor's BFF Sarah Paulson joined him to claim her mommy status.
7. Daddy's Boy
Pascal's close friendships with Oscar Isaac and Sarah Paulson are a big part of what endears fans to him so much, especially since Isaac and Paulson have their own daddy/mommy standoms as well. So it was no surprise Pascal called Isaac and Paulson the ultimate daddy and mommy when asked, and even threw in a kinky detail about his role in the trio: "I'm their b*tch... Whoopsie! I'm their boy."
8. That TikTok. You Know The One.
There are plenty of super-thirsty TikTok edits devoted to Pascal, but one stands above the rest. On Jan. 20, TikTok user @dvcree changed everyone's FYP forever by posting an edit of Pascal's cowboy character Agent Whiskey from 2017's Kingsman: The Golden Circle. The sweltering video immediately went mega-viral, and currently has over 27 million views.
9. "Your cool, slutty daddy."
As if Pascal saying "I'm your daddy" straight into camera the first time wasn't enough, he broke the internet yet again during a red carpet interview on Jan. 15. This time, he threw in some important adjectives. "I am your cool, slutty daddy," he said, knowing all too well he'd just created a clip that would become social media gold.
10. Slay
Yes, Pascal is deeply aware of how all of his extremely-online fans talk. In a video that has since become an inescapable meme, he showed off his goofy side by saying, "Slay and yaasss." Total daddy move.
11. This One's For The Gays.
Pascal isn't just daddy to his female fans, he's also got a massive LGBTQ+ following. And as the daddy convo hit its peak, gay Twitter rediscovered Pascal's seminal work as an opinionated gay man on MTV's Undressed in 1999. The decades-old video resurfacing reminded fans just how far Pascal has come, from baby to daddy.
12. Zaddy
The whole "daddy" thing has gotten so big, it's become the go-to talking point for most interviews with Pascal. Thankfully, he doesn't shy away from attention, and has even pondered if he's reached officially reached zaddy status yet. (He has.)
13. Turning Looks
The ultimate daddy needs an attention-grabbing wardrobe to match their vibe, and luckily, Pascal's got it. He went full daddy mode for The Mandalorian's Season 3 premiere events at the end of February, setting the internet on fire in a crocheted sweater.
He leaned more into his daddiness days later by tying a sweater around his shoulders and wearing stylish glasses.
The look just screams "daddy" in a way where Pascal had to know what he was doing when he put it on.