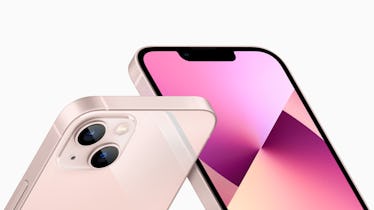 iPhone 13 Pro Comes With 2.5 Extra Hours Of Battery Life
Think of how much more TikTok you can watch now.
Apple's fall keynote event on Tuesday, Sept. 14, confirmed the rumors about the next iPhone model, and there's lot to love about the latest device. The new iPhone 13 features upgraded camera features, new colors, and more. As you're considering upgrading your smartphone for the latest and greatest, here are the iPhone 13's colors, price, release date, battery life, and to get you hype for the upcoming release.
The "California Streaming" event aired on Tuesday, Sept. 14 at 10 a.m. PT live from Cupertino, California. During the event, the company unveiled the iPhone 13 and 13 mini; the iPhone 13 Pro and iPhone 13 Pro Max; the new iPad and iPad mini; and the new Apple Watch Series 7. It was a jam-packed keynote with lots of great information for Apple stans. While iPhone 13 might not seem too different from the iPhone 12 on first glance, with all four models sporting the same glass and aluminum (iPhone 13 and 13 mini) or matte glass and stainless steel (iPhone 13 Pro and Pro Max) designs, some specs on all four new iPhone models launching on Sept. 24 might just catch your eye.
Colors
One of the highly anticipated details during a new iPhone release is the color options, and the iPhone 13 lineup didn't disappoint. The iPhone 13 will sell in five colors, including blue, midnight, starlight, and Product [Red], similar to the iPhone 12 options. However, the fifth color is new: a pink iPhone 13.
The pink color rumors first began back in February 2021, when Artist Ali Sayed Ali posted a photo of a 3D model of a pink iPhone, and it looks like they came true.
The other reported color option was a bronze shade called "Sunset Gold," per tech leaker Ranzuk, who posts on the Korean blogging platform Naver, a Korean blogging platform, but it looks like the pink won out.
The iPhone 13 Pro and Pro Max are available in four colors: deep graphite, silver, gold, and the new sierra blue.
Price
The iPhone 13 models are within the same range as the iPhone 12 devices were, starting at $699 and $799 for the iPhone 13 mini and the iPhone 13, respectively. For the higher-end devices, the iPhone 13 Pro and 13 Pro Max cost $999 and $1,099, respectively.
Release Date
The iPhone 13 lineup will be released on Friday, Sept. 24, and preorders will begin on Friday, Sept. 17.
Battery Life
Thanks to an A15 Bionic chip, larger batteries, and power optimization, your iPhone 13 will last you all day.
The iPhone 13 mini will get one-and-a-half hours more battery life than the iPhone 12 mini, and the iPhone 13 has a battery life two-and-a-half hours longer than the iPhone 12. For the Pro series, iPhone 13 Pro lasts one-and-a-half hours longer than 12 Pro, and 13 Pro Max will give you two-and-a-half hours more than 12 Pro Max. All the more time for scrolling when you should be sleeping, amirite?
Display
The iPhone 13 and 13 mini feature an improved Super Retina XDR OLED display that provides incredible graphics, better true black shades, and an overall 28% increase in outdoor brightness compared to the iPhone 12 and 12 mini displays.
You'll get Super Retina XDR display with ProMotion in the iPhone 13 Pro and 13 Pro Max. They also has a refresh rate of 120 Hz, which means these devices are faster and more responsive to touch. The iPhone 13 Pro series also boasts the brightest display ever for an iPhone.
Camera
In line with previous rumors, the camera sensors for each iPhone 13 device will receive more light, which means photo quality is even better. The iPhone 13 and 13 mini feature the most advanced dual-camera system yet (with a new diagonal set-up), and it receives up to 47% more light than the iPhone 12 cameras, and Night mode photos are also improved.
Other impressive camera features on the iPhone 13 include slo-mo selfies, brighter and more detailed photos, and a new "Cinematic" Portrait video that's capable of creating pro-grade videos and also features an auto-focus that shifts to subjects so you don't have to.
Additionally, the iPhone 13 Pro and Pro Max smartphones feature a triple-camera system — a Telephoto Lens, an Ultra-Wide Lens, and a Wide Lens. The upgraded lenses allow for up to 2.2. times improvements in low light photos compared to its predecessors and up to 6x optical zoom range. Up-close photos will have more detail, and each of the lenses now features Night Mode.
Finally, all iPhone 13 models will come with iOS 15, so you can enjoy new system upgrades on your new device. Now that the iPhone 13 lineup has officially made its debut, you can preorder all four iPhone 13 models starting on Friday, Sept. 17.
This article was originally published on