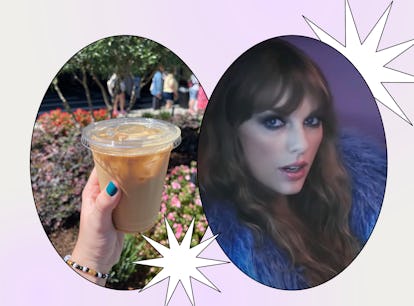 I Tried The Grammy Museum's Taylor Swift "Lavender Haze" Latte
It may even be better than the viral Starbucks drink.
Rachel Chapman/Taylor Swift/Elite Daily
The final stop of Taylor Swift's Eras Tour in the U.S. is Los Angeles at SoFi Stadium. To celebrate her mini residency, the Grammy Museum in Downtown LA unveiled a limited-time Taylor Swift exhibit. The I Can See You (Taylor's Version) pop-up features costumes and props from Swift's "I Can See You" music video as well as items from her Speak Now era. In addition to the exhibit, Swifties can also stop by the museum's rooftop cafe for some themed treats. I actually went to the Grammy Museum before my Eras Tour show, and tried the Taylor Swift "Lavender Haze" latte from the menu.
I've be able to taste-test quite a few "Lavender Haze"-themed beverages since the Midnights album dropped in October 2022 — from Starbucks' viral off-the-menu drink to an alcoholic lavender lemonade. While I've enjoyed them all in their own ways, this "Lavender Haze" latte ($5) from the Grammy Museum might just be my favorite of the Taylor Swift drinks. The Starbucks' "Lavender Haze" drink wins points for its Insta-worthy violet color, but it's missing the lavender taste. Luckily, this latte has lavender syrup mixed into the espresso shot, so it's full of floral flavor. It didn't taste artifical either, and was a refreshing sip to enjoy on the rooftop overlooking DTLA. Swift's music was also playing in the background, so you could really just relax, enjoy the view from one of the couches, and sip on a "Lavender Haze" drink after checking out the exhibit.
The Taylor Swift menu at the Mike Curb Cafe also had other punny items, like:
Cruel-dite Summer (crudité and hummus) — $10
The Story of Hummus (pita and hummus) — $10
Hey Kids, Chicken Is Fun (fried chicken sliders with ranch) — $12
Buffalo Chicken Wrap-utation (buffalo chicken wrap with Sriracha aioli) — $12
I'm Feeling 22 (birthday cake pop) — $5
Death by a Thousand Cookies (mini cookie) — $3
Wildest Cream Cupcake (mini cupcake) — $4
Inside The Taylor Swift I Can See You Exhibit In Los Angeles
In order to get to the cafe, you need an admission ticket to the Grammy Museum, which is just $18 and grants you access to the I Can See You (Taylor's Version) exhibit as well. There are also additional Swift items in other areas of the museum, so fans have something to see on every level. The I Can See You section is small, with just 13 artifacts from the music video, but includes some very nostalgic pieces from Swift history. Some of those vintage costumes are from the Speak Now tour and Swift's "Mean" music video. On the third floor, you'll find the dress she wore to the 2023 Grammy Awards right next to Harry Styles' sparkly jumpsuit, while the second floor had lyrical sheets from when she was writing songs like "White Horse," "Tim McGraw," and "Run (Taylor's Version)."
The entrance and first floor is the gift shop, which had a few Swift merch items:
Swiftie Handkerchief — $20
Poster — $30
Speak Now TV Tee — $35
Speak Now Cap — $35
"Karma" Tee — $35
The Taylor Swift Grammy Museum exhibit is open now through Sept. 18. It's the perfect place to stop by if you're having some post-Eras Tour depression and want something fun to do with your fellow Swifties. Just don't forget to grab a "Lavender Haze" latte from the cafe, because that flavor really will be "creepin' up" on you and you'll want to stay sippin' all day.