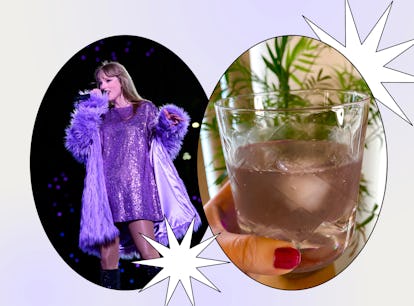 I Tried Taylor Swift's Eras Tour Lavender Haze Lemonade & It's Strong
I feel the vodka "creepin' up on me."
Lisa Lake/TAS23/Getty Images Entertainment/Getty Images/Rachel Chapman/Elite Daily
Not only are Swifties outdoing themselves at The Eras Tour with intricate themed 'fits, but the stadiums are also pulling out all the stops in Taylor Swift's honor. Glendale, Arizona transformed into Swift City for the start of tour, while Las Vegas lit up in all the colors of the eras to show they were "ready for it." Some places have even been revamping their menus to include Eras Tour-themed drinks for Swifties to purchase at their show. MetLife Stadium in New Jersey had an Eras Tour Lavender Haze Lemonade, and I tried making it at home to see if it's as good as other Swift-inspired drinks.
I actually attended night one of The Eras Tour in New Jersey and was disappointed to see they weren't offering any kind of speciality cocktail when I was there. I circled the stadium for what felt like forever trying to find something fun to sip on while I waited for Swift to take the stage, but was left empty-handed and thirsty. So, you can imagine my frustration when I saw that MetLife Stadium tweeted on night two that they were selling a Lavender Lemonade. The lavender-infused lemonade with vodka was also perfectly priced at $13 — aka Swift's favorite number. Of course, I shouldn't complain since our night did get "Getaway Car" and "Maroon" as our surprise songs in addition to an Ice Spice guest appearance, but I still wanted to try the Lavender Lemonade for myself.
I've had the Lavender Haze drink from Starbucks, and really loved the blend of passion tea, soy milk, and vanilla. With summer finally here, I was hoping this Lavender Haze Lemonade might be my new go-to sip of the season.
Taylor Swift's Eras Tour Lavender Haze Lemonade Review
Unfortunately, MetLife didn't share a recipe for the Lavender Lemonade, so I went to Google. This Lavender Vodka Lemonade recipe popped up and only required four ingredients, so I went with it. To make at home, you need:
2 oz vodka
1 3/4 tablespoons food-grade dried lavender
1 1/2 oz lemon juice
1 1/2 oz simple syrup
I couldn't find dried lavender at my grocery store, but picked up the next best thing — lavender tea. To start off, infuse the lavender into your vodka for about five minutes. I left my tea in a bit longer to really pull out the lavender flavor. Once that was done, pour in the lemon juice and simple syrup before shaking. Add to your glass with some ice and that's it. It's a fairly simple recipe.
To make my drink more lavender haze-y, I added in some color. Instead of going with food dye, I used blue and pink edible glitter and experimented to get the perfect purple shade. It wasn't exactly a bright lavender like Swift's purple jacket on The Eras Tour, but it was close enough. Apparently, the lavender lemonades at MetLife weren't purple at all, so at least mine won points here. However, the taste was a bit much.
The drink is basically half lavender-infused vodka and half lemonade. For someone who was just looking for a casual sip to enjoy at home, it was way too strong. If I were to make this again, I probably would add more lemonade, but that would really dilute the lavender flavor. Another option would be to make an eight-ounce lavender tea lemonade, sans vodka. This will probably be my go-to if I decide to make some lavender lemonade this summer to enjoy poolside on a hot day. If I did want to add some vodka into the mix, I would add a shot — aka 1.5 ounces — and that's it. Anything more, and I also might find myself "staring at the ceiling" at midnight.