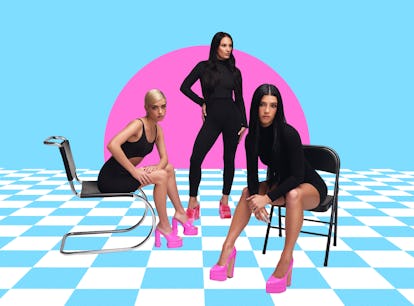 Dixie & Charli On D'Amelio Footwear, Barbiecore, & Beyoncé's Tour
They also have a shoe for every Taylor Swift era.
Elite Daily/Shaye Babb
We may receive a portion of sales if you purchase a product through a link in this article.
The FYP isn't the only thing the D'Amelio sisters are taking over — they've also got the fashion world on lock. Dixie and Charli D'Amelio first stepped into the industry in 2021 with their clothing brand Social Tourist, and in March, Dixie collaborated with Puma. Now, the whole fam is getting in on the shoe business with their own line. Launched in May, D'Amelio Footwear's first collection was designed with variety in mind, ranging from platform Y2K-esque sneakers to bright pink Barbiecore pumps. "We have the basics, but there are also little pops where you can find your personal style within the collection," Charli tells Elite Daily a few days before their launch party.
For two sisters whose go-to styles are vastly different, their goal was to provide a lot of options with max comfort. "An uncomfortable shoe can ruin a whole night," Dixie tells Elite Daily. Dixie and Charli even put a pair of their shoes to the test at Coachella this year to see if it passed the no-blister test. (It did — all three days.)
Whether you're going to a music festival, Beyoncé's Renaissance Tour, or Taylor Swift's Eras Tour this summer, Dixie says there's a D'Amelio Footwear piece "for every era." Some faves suggested by the sisters include their sporty Reputation era-esque Camdon Boot, which is a reliable, everyday shoe. There's also the more girly Ultra Pink shade of their platform pump for special occasions, which is both the perfect accessory for a Lover era 'fit or to see to the Barbie movie this summer.
Below, the family members also share which D'Amelio Footwear shoe matches their personalities the best, the pair to wear for different summertime activities, and the D'Amelios' plans for a fall collection later this year.
This interview has been condensed and edited for clarity.
Elite Daily: What was it like working on this collection as a family?
Dixie D'Amelio: It was honestly pretty smooth. We get along pretty well.
ED: Did each of you take on a different role during the development process?
DD: We were all involved in the creative process, but I think overall, my dad has worked the hardest on just keeping this together. He gets everything done.
Heidi D'Amelio: Something that the girls did that was pretty valuable to this whole process was having their friends give input on what shoes they are liking right now.
ED: That's great. Did you ever argue about certain design styles, or were you all generally on the same page?
DD: We didn't have any complaints with the shoes in this first collection. I'm just pushing for slippers, though. Besides that, we all pretty much agree.
Charli D'Amelio: We were pretty collaborative. Knowing that we all like different things, we understand that some shoes are more one person's vibe rather than someone else's. That's just life.
ED: Which shoe would you say from the collection best represents each of you?
DD: Mine's the black combat boot. I wore it to Coachella straight out of the box and did not get a blister. For a boot that's platform and chunky, but also not super heavy, I was surprised my feet felt fine when I wore it.
CD: It's not just her. I always get blisters, and I didn't have any either. I wore the same exact combat books all three days at Coachella. Personalitywise, I'm probably more of a sneaker, though.
HD: The Ravina Platform Slide is my favorite. I want it in every color. I'm wearing the Dark Blush today because they go with my outfit. They're super comfortable.
ED: Can you describe to me the perfect occasion for each of the shoes in the collection? For example, which pair would you wear on a day out with your friends?
CD: I wore the platform sandal shoe in denim — the Ravina — to a picnic in the park with my friends.
ED: Which shoe would you say is the best for a date night with your partner?
DD: I like the silver little pump shoes, and I can actually walk in them. I cannot walk in heels at all, and being able to walk in shoes like that — I don't know how they're making these shoes. They're really good. I mean, there are times my stylist hates me, because she's like, "Can we please put you in this shoe?" I'm like, "No, I can't walk in them." But I can walk in all of these, which is really awesome.
CD: I think the bigger the heel, the better. Dixie can't walk in a lot of heels, so it's the two of us working together to find the perfect combination.
ED: What's the best shoe to wear for a TikTok dance?
DD: Probably the boots or the sneakers.
CD: Yeah, they have the most ankle support.
ED: You mentioned that you wore the Camdon boot to Coachella. Do you ever think of your shoes first when planning out a 'fit?
DD: Yeah, or I'll go for a color.
CD: If I know I want to wear a specific shoe, I'll go with the shoe first. But normally, I feel like that's last. I just figure out what goes best with what I'm wearing.
ED: Have any D'Amelio Footwear shoes made a cameo on TikTok or Instagram without people knowing?
DD: All of our Coachella ones. That was the first time I wore them.
HD: We all wore boots. I didn't wear the combat boot. I wore the patent leather textured zip up boot with a little heel all night, and I was totally fine. I was so happy.
ED: This collection has a summer vibe to it. What are your plans for the fall?
HD: It's tricky coming out of the gate with this line. It's everyone's first impression of D'Amelio Footwear, so we want it to appeal to the most amount of people, styles, and age groups.
Marc D'Amelio: We'll react to the market, because we'll have an immediate idea of what people think of this first line. If it's the Camdon Platform Boot that blows up, you'll see other colors in that boot for the fall. If the graffiti pattern works and we find what patterns are working, we'll move in that direction. It's Dixie, Charli, and Heidi who are bringing ideas and concepts to our designer, but it also works the other way around, where our designer will come to us. We already got the holiday 2023 preview.
HD: It's so good. I'm so excited. I am already planning outfits around those shoes.
ED: That's so exciting. You mentioned a lot of these have platform heels, which are Y2K style. Are there any other Y2K trends that you're excited about right now?
CD: The platform thing for me is great because I like a little bit of added height.
DD: That's like Charli's signature.
CD: Yeah, but not on purpose. I feel they're more flattering on me. But as far as other trends and styles, I like what I like, and through that, I'll find other stuff.
HD: I also love how we have the classic pump. It could span from someone in their teens and early 20s, to someone my age. I love that about its classic silhouette.
ED: There are a lot of fun colors in this launch, like hot pink, which is a huge Barbiecore thing. Are you guys into the Barbiecore trend and excited about the movie?
DD: It was just a happy accident how that all came together, but we're very excited about that, obviously.
HD: I can't wait to see the movie.
ED: The pink shoes in the collection are perfect to wear leading up to the movie.
CD: You could wear it to the movie theater. It's that cool.
ED: What inspired this collection?
CD: We didn't want to go in one direction with this collection. We have the pinks, we have the graffitis, we have the nudes, and the blue. There's something for everyone, and especially as we move forward, we're not getting too specific, like, "Oh, this is trending right now; we're going to make this shoe." We're going to make it a little cooler and still around that area, but not directly head-on.
ED: There are some big concerts happening this season, and I wanted to ask you which pair of shoes would fit best with each one. What would you wear to Taylor Swift's Eras Tour?
DD: You could do the silver.
CD: You could do the boot if you're talking Reputation. The pink for Lover. I feel like you can do it all.
ED: Which shoes would you wear to Beyonce's Renaissance Tour?
DD: The combat boots.
CD: I've seen some of the costumes she's wearing, and I feel like you can't go wrong with a silver or black shoe. That stays with the tones of the concert.
ED: And last one, what would you wear to a Blink-182 show?
DD: Boots.
CD: Yeah, the boots make sense.
DD: I mean, that's what we both wore when we got to see them at Coachella.