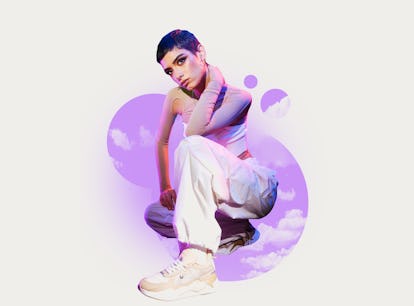 Dixie D'Amelio's Self-Care Routine Includes This Viral TikTok Trend
Plus, the singer shares how she feels about sharing clothes with Charli.
Elite Daily/PUMA
We may receive a portion of sales if you purchase a product through a link in this article.
Dixie D'Amelio does it all. One minute, the singer and Social Tourist co-founder is on tour with Big Time Rush, and the next, she's debuting a stunning platinum pixie haircut at Paris Fashion Week. Juggling so many projects at once can be overwhelming for anyone. However, the 21-year-old has found a work-life balance where she not only prioritizes her mental health, but also spends time with close friends, hangs out with little sis Charli, and even gets to bed early most nights. Basically, Dixie could add "self-care queen" to her growing resume if she wanted to, along with her new title: shoe designer.
Dixie just released her first-ever shoe collection with PUMA, telling Elite Daily that designing the three pieces was a very personal process. Each shoe in the PUMA x Dixie D'Amelio collab represents a different aspect of her music career, from recording to the stage.
Dixie debuted her collection at a launch party in LA, where she confessed, "This is going to be the latest I've stayed up in a while." There's nothing more important to the "Wild" singer than her nighttime routine. Unless, of course, you're talking about Charli — Dixie takes her role as a protective older sis seriously.
Below, Dixie shared her self-care schedule and fave skin care products, as well as how far she'd go to make sure her sister was OK. If there's anyone you want in your corner, it's Dixie D'Amelio.
This interview has been edited and condensed for clarity.
Elite Daily: How did your personal style influence your PUMA collection?
Dixie D'Amelio: I feel like each shoe has its own touch of me, which I love and hate at the same time. It's just so crazy thinking about my little cloud or something on a shoe. For example, the RS-X style was inspired by a studio session with the controls on a panel at the studio.
ED: What's your favorite pair, and how would you style it?
DD: I went back and forth with this for a while: How am I going to style each shoe? And I thought the Mayze were my favorite to style until I made a really cool outfit with the Defy Mid shoes. And I'm like, "Oh my God, they're just all perfect for their own things," which I really love.
ED: In between working with PUMA, you're doing a bunch of different projects — you're traveling and you were just in Paris for Fashion Week. How do you prioritize your work-life balance?
DD: I'm definitely still working on finding a balance. Right now, my schedule is four weeks on, two weeks off. I just had my two weeks off, but my two weeks off were Paris Fashion Week.
Right now is the time where I want to work and I want to do everything I can. I'm very lucky for every opportunity I get, and I don't want to miss out on something. I have all my close friends, and I'll work on building more relationships later. But right now, I do more work.
ED: When you're working, do you have a self-care routine that helps you unwind at the end of the day?
DD: I've been going to bed at 9 every night, and my night routine is super important to me. Not even skin care, but just getting myself into bed and watching Netflix and just being comfortable has been really great. Having a morning routine is not my specialty yet, but I do love having a nice schedule at night.
ED: What do you do in the morning?
DD: Usually, I wear whatever I went to bed in to whatever I have to do in the morning. I'm not a morning person at all.
ED: Do you have any skin care products that you want to shout out that you love?
DD: I'm the worst with skin care. Neutrogena Makeup Wipes is probably my number one product if I'm taking care of my skin, or the Aveeno lotion. It has sunscreen in it and it's probably my favorite lotion, but again, I'm not the best skin care person.
ED: Are there any TikTok trends that you've seen that you've tried?
DD: I feel like I haven't been on TikTok too much recently. Not for any reason — I just haven't been posting on social media. I definitely would like to try doing a GRWM one day and talking more on social media.
ED: Have you done things like a hot girl walk or skin slugging? Have you tried any of that?
DD: Oh my gosh, I do. I actually changed my mind — Aquaphor is my number one product and I slug with it. It's my favorite and I use it every single day.
ED: How does your phone factor into your daily routine? Do you have set phone habits, like screen time limits or times where you put your phone away during the day?
DD: I think I'm one of the most phone-addicted people in the world. I love being on my phone. I definitely would love to work on that. Maybe it'll be my next year's New Year's resolution, but I spend a lot of time on social media — and not even posting, just as a viewer.
My parents are like, "What's your screen time looking like?" I'm like, "That's my job. It's fine. I'm just looking for inspiration." So, I have a little bit of a pass, I guess.
ED: You're doing research.
DD: Yes. Market research.
ED: You've also been really open about your mental health, especially on The D'Amelio Show. Do you have any self-care tips that really work for you?
DD: I think right now I'm still navigating that. I was diagnosed with PMDD, which kind of explained my life for the past seven years. I'm still trying to figure it out because my month is basically two weeks of great, fun energy where I'm awake and ready to do everything, and two weeks of depression. I'm trying to find the middle ground and how to set myself up for those bad weeks to not be so bad.
It's something I'm working on, and honestly, I don't want to give advice on something when I don't even know what I'm talking about, but I think at some point, it'll be really nice for me to be able to help people with that once I figure it out.
ED: Just talking about it is already helping people.
DD: It's helped me so much because once I brought it up online, so many people reached out to me and related to it. I didn't feel alone, which was the hardest part. But now that I know there's a group of people that also feels the same way, it's been really helpful.
ED: Both you and Charli rose to fame on TikTok at the same time. You often work together as well.
DD: We spend a lot of time together. We're roommates. We're sisters. We do have sister fights randomly, but for the most part, we are very close.
ED: Do you guys share stuff like skin care products at all?
DD: Charli will sneak into my room to check out my stuff "for inspiration," but I also see things going missing. But usually what happens is I'll go to her and be like, "You're wearing my shirt." She's like, "You literally have my pants on now." So, we don't even mention it anymore. We're just kind of like, OK. It's not even worth getting mad at.
ED: Being an older sister, did you feel any sense of responsibility with helping her navigate fame?
DD: 100%. I feel responsible for her every single day because I just want nothing but the best for her. She's so responsible and so mature, but if we're going somewhere together, my eyes are on her constantly.
I said on Twitter recently, "I would quit everything tomorrow to make sure my friends and family are OK." I mostly directed that towards Charli because I just love her so much. I want her to just experience life and happiness, and she got a lot thrown at her at such a young age. I just think she is such a sweet, kindhearted person and deserves nothing but love and happiness. I think that's my job, and that's why I'm here.