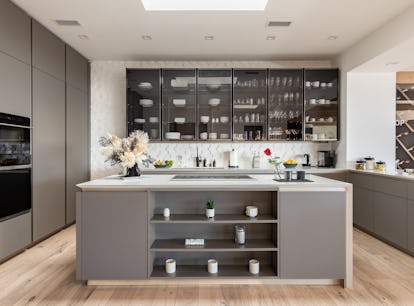 You Can Stay At Dixie & Charli D'Amelio's House On Airbnb For Free
Meet TikTok royalty this month.
Airbnb
Dixie and Charli D'Amelio are so much more than TikTok stars. Along with releasing their own music, heading up their own fashion brand, and starring in their own Hulu series, Dixie and Charli have also recently added Airbnb hosts to their resume. This February, the D'Amelio sisters are opening up their West Hollywood home for one lucky guest to stay in for the night. The best part about Dixie and Charli's Airbnb is that it's available to rent for free.
Think of it like being invited over for a sleepover with Dixie and Charli. While staying in their private guest room, you'll have access to their 5,000 square feet home, which you've probably seen in vlogs and TikTok videos. In fact, Charli most recently filmed a series of YouTube videos in her home over the holidays, and her kitchen was heavily featured. During your stay, hang out in that same kitchen while filming your own content. After all, part of your D'Amelio stay includes a fridge stocked with all of Dixie and Charli's fave snacks.
The D'Amelios shared, "This house was the first place we had all to ourselves and has been the best place for us to have friends over and relax." Speaking of which, you'll want to pack your swimsuit to take advantage of the pool, hot tub, and sauna. Escape the cold and come to sunny Los Angeles this February. Even if it's a bit chilly outside, you can still relax by the pool and film a few TikToks with the gorgeous LA skyline in the background.
You might even want to get out of the house and explore the city a bit if this is your first time in California. After being a tourist, come back to the D'Amelio house to kick back and relax in the living room. You'll have access to their TV for a movie night in, as well as music to listen and dance to. In addition to the snacks in the kitchen, meals will also be provided during your stay.
If you're wondering if you'll actually get to meet Dixie and Charli, the answer is yes. Once you arrive, both Dixie and Charli will be there to greet you and get you settled in. Before they leave, you'll even get a chance to snap some Insta pics and film a few TikTok videos. Of course, to stay in the Dixie and Charli's house, you first have to book it.
How To Stay In Dixie And Charli D'Amelio's House
The reservation window for Dixie and Charli's West Hollywood home will open on Feb. 16 at 2 p.m. PT. Set an alarm on your phone and mark your cal so you don't miss this exclusive opportunity. Your reservation will include the free stay, but you'll be responsible for getting to the Airbnb. Right now, there is no official date for when the Airbnb vacay will take place, but Airbnb confirmed the one-night stay will happen later this month.