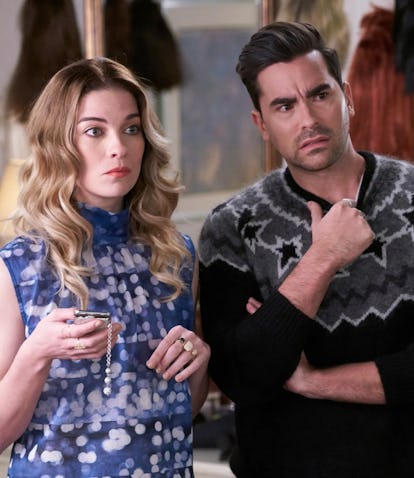 14 Schitt's Creek Questions The Finale Never Answered
Seriously, WTF happened to Mutt?
PopTV
When it comes to emotional sitcoms that take over your life in the best way possible, Schitt's Creek is simply the best. Starting in 2015, for six seasons, Johnny (Eugene Levy), Moira (Catherine O'Hara), David (Daniel Levy), and Alexis (Annie Murphy) showed viewers how to enjoy whatever life throws at you and laugh in the face of adversity. While all of the characters' stories were wrapped up pretty nicely as the show came to a close, there are still a few questions the Schitt's Creek finale left unanswered.
Even though the final episode of the show premiered in April 2020, thanks to Schitt's Creek's streaming home on Netflix (soon to be Hulu on October 3, 2022), fans are still watching — and rewatching — the riches-to-rags story of the beloved Rose family. It's pretty clear why the show had a historic sweep at the 2020 Emmys: Schitt's Creek artfully weaves together honesty and humor and teaches some very real lessons with some very memorable characters.
While it looks like every character was poised for success as the final credits rolled, if you pay attention, there are a few important details that weren't addressed before everyone said goodbye. Here's what fans want to know as the Roses set off on their next great adventures:
Schitt's Creek is streaming on Netflix until October 2022, when the series will transfer to Hulu.
This article was originally published on