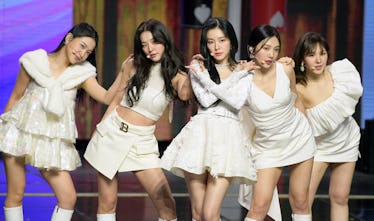 These 12 K-Pop Girl Groups Are Perfect For Your Feel-Good Playlist
Don't sleep on these songs.
The Chosunilbo JNS/ImaZinS/Getty Images
Few cultural rises to prominence compare to the worldwide popularity of K-pop groups in recent years like BTS and BLACKPINK. The former has been nominated for multiple Grammys, while the latter performed at Coachella in 2019.
However, they are just two of many elite K-pop groups. In fact, it can be a little overwhelming to dive into the world of K-pop with so many new groups debuting every few months while classic artists continue to release new music. There's also the intricate campaigns, including tentpoles like teaser photos and music videos. Plus, each group has a devoted fandom (aka fan group) keeping the excitement alive year round.
You may have a few favorite groups already filling up your playlists, but there's always room for more. So check out these beloved K-pop girl groups, because they just might be worth adding to your music rotation.
These K-pop girl groups will be living rent-free in our heads, but don't stop here. Put these artists on shuffle alongside these K-drama soundtracks that are just as good as the shows.
This article was originally published on