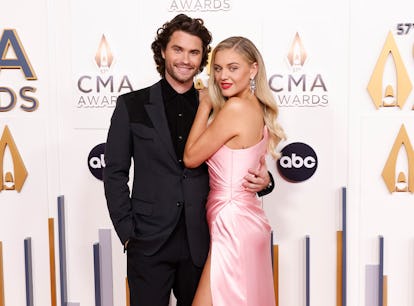 Kelsea Ballerini Gave Details On Her First Kiss With Chase Stokes
Taylor Hill/WireImage/Getty Images
Chase Stokes and Kelsea Ballerini haven't been shy about their relationship. The couple, who first soft-launched their romance in January, have been proudly and publicly going strong ever since. From Instagram DMs to concerts to award shows, they've had quite the modern love story.
Their romance began in December 2022, a month after Ballerini finalized her divorce and two years after Stokes split from Outer Banks co-star Madelyn Cline. A month later, they went Instagram-official, and by February 2023, they confirmed their 'ship when Ballerini dished on her divorce and burgeoning relationship on Call Her Daddy.
There's been a sea of red carpet appearances, cute PDA moments, and sweet quotes since then. Here are all the highlights of Stokes and Ballerini's relationship timeline so far, including details (ahem, timestamps) of their first-ever conversation.
December 2022: Kelsea DMed Chase
It all started with a DM. On Sept. 15, 2023, Ballerini shared her first message to Stokes in honor of his birthday. On Dec. 1, 2022 at 1:07 a.m., she sent him, "hiii chase stokes." At 3:17 a.m., she got his response: "Hey there how u doin." Ballerini answered him the next day, "i'm kels, nice to meet you 😊." Stokes liked the message, and the rest is history.
January 2023: Dating Rumors Began
Stokes went public with Ballerini on Jan. 13. He posted an Instagram carousel, featuring a photo of the singer and him cuddled up at the Georgia versus TCU game. "lil recap," he captioned the post.
The IG was proof that Ballerini and Stokes were connected, but it didn't confirm if they were officially dating. For the first month, they kept their sitch vague. On Jan. 18, when Stokes was stopped by TMZ, he told the outlet about Ballerini. "She's a sweet girl. We're having a good time and that's all I'll say," he said at the time.
February: Kelsea Confirmed They're Together
Ballerini confirmed the relationship in a Feb. 22 interview with Call Her Daddy's Alex Cooper. "I've never seen the show, but I just knew of him. And so I followed him, and he followed me, and I just swan-dove right on in," she explained about sending the first DM.
The next day, on Feb. 23, Stokes posted an IG Story of them together, with Ballerini kissing his cheek. "imy❤️," he wrote alongside the post.
Earlier in February, Stokes spoke about working with Cline, his ex, on Season 3 of Outer Banks. "Mads and I have been working together now for 30 episodes, and we made a promise to each other before we even started dating that the work was always going to come first," he told Entertainment Weekly on Feb. 3. "And that no matter what happens in our personal lives, and the ways that life sometimes takes you in different directions, that we're always going to honor the work. That stayed 100 percent truthful this season."
March: Chase Was Spotted At Kelsea's Shows
In March, Stokes started getting noticed at Ballerini's performances. On March 4, he watched her sing on Saturday Night Live, congratulating her afterwards on IG. "QUEEN sh*t," he wrote, per Taste of Country. "@kelseaballerini you did the f*cking damn thing." He also posted a photo of her SNL dressing room, writing "Proud of you, my love."
Fans on TikTok also started posting videos of Stokes singing and dancing at Ballerini's concerts. "find someone who looks at you like Chase looks at Kelsea," one fan captioned their video.
Stokes has spoken openly about being a big fan of his GF's work. He actually confirmed their relationship on a March 3 episode of Today. "Absolutely, I'm a fan. Yeah, who isn't a fan?" Stokes said of Ballerini, before saying, "Mmm hmm," when the the host pointed out they were dating.
April: Chase & Kelsea Went To The CMT Awards
On April 2, Stokes and Ballerini made their relationship red carpet official at the 2023 CMT Awards in Austin, Texas. "I have a really hot date tonight," Ballerini told red carpet host Cody Alan, per ABC. "I'm really, really happy … this is our first outing, so I'm like, 'Come on into my world and then bring me into Charleston [where Outer Banks films] and I'll be in yours, it'll be fun.'"
September: Chase & Kelsea Went To The VMAs
Ballerini and Stokes hit another carpet on September 12, when they were each other's dates to the VMAs. During their night out, they treated fans to some serious PDA, which got plenty of love on TikTok.
In a Sept. 12 interview with Elite Daily, Ballerini explained how she and Stokes keep their romance alive with such demanding schedules. "I think a FaceTime in the morning and a FaceTime at night to start and end your day with someone you love is really important," she said. "It's really easy to just find a minute or an hour in the morning and at night with your person."
Nov. 6: Chase Said He "Cried" During Kelsea's Hometown Show
Stokes attended the CFDA Fashion Awards on Nov. 6. Although he didn't bring Ballerini, he spoke about her while walking the carpet. "She's working, she's doing her thing, I'm doing my thing. We got stuff going on," he explained his GF's absence to Entertainment Tonight. Apparently, Stokes spent the morning in Nashville with Ballerini before flying to NYC for the CFDA festivities.
Stokes also reflected on his and Ballerini's summer together. "It's been such a blessing over the last couple of months, 'cause we've had the time to [be together]," he told ET. "I'm just, I'm happy as a bean."
At the event, Stokes also opened up about watching Ballerini headline her first hometown show in Knoxville, Tennessee on Nov. 2. The actor admitted he "cried" watching her perform. He told People, "I'm still recouping my hearing from how loud it was … for her to go back to her hometown and to sell out an arena, like that stage — it was the coolest thing. I cried the whole time."
Nov. 29: Kelsea Went On Call Her Daddy Again
Ballerini didn't shy away from gushing over Stokes during a Nov. 29 episode of Call Her Daddy. "He's the most emotionally intelligent man I've ever met in my life," she told host Alex Cooper, per Us Weekly. "I keep telling him he's a man written by a woman."
She also gave some NSFW details on the pair's sex life. "My experience with [sex] was very performative and for the other person," Ballerini explained. "It don't be like that anymore."
During the interview, the "If You Go Down" singer also revealed how their first meeting went down. "[I] met him in person January 7. We were supposed to have our first date the 8th, but I was in L.A., and I was like, 'Crazy that I'm here and we're not in the same room.' He was like, 'Drop your pin,'" she recalled, per Taste of Country.
"I'm sweating just thinking about this. I thought I was gonna pass out. 'Cause you know, you can have chemistry over the phone, but when you see each other, you're like, 'What's the height difference?' ... I didn't know what to do," Ballerini added.
She met him at the valet. "I walked out to his car and he got out of his Bronco — hot. He did not say a word to me. He grabbed my face and he kissed me. He pulled my face away and said, 'Thank God you're real,'" she recalled. "It was so redeeming for my experience of men in relationships."
Ballerini also discussed Stokes' "lovely" ex Madelyn Cline, who is his co-star on Outer Banks. "I'm stoked to be on set and vibe with everyone," she told Cooper, when discussing visiting Stokes at work. "At the end of the day, I'm a girls' girl. I don't buy into the bulls­h*t. … I think they have a beautiful working relationship and I'm excited to hang with her."
This article was originally published on