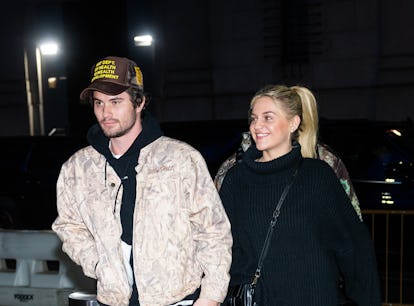 Here's Video Proof That Chase Stokes Is Kelsea Ballerini's Biggest Fan
Did someone say golden retriever boyfriend?
Gotham/GC Images/Getty Images
Watching your significant other perform their divorce-inspired EP might not be for everyone, but Chase Stokes doesn't seem to mind. On TikTok, videos of Stokes attending Kelsea Ballerini's live shows have gone viral — and based on these clips, the Outer Banks star is the pinnacle of supportive boyfriend energy.
On Feb. 14, Ballerini released her EP Rolling Up The Welcome Mat, which told the vulnerable story of her divorce from fellow country singer Morgan Evans in 2022. As the singer herself put it, "Rolling Up the Welcome Mat was how I processed everything. It's the way I got my feelings out of my body and heart and put them to music — which is the purest way I could've handled it." Since the release, Ballerini has been doing her new music justice, performing it on tour and even on Saturday Night Live — and Stokes has been cheering her on.
In the concert videos posted online, Stokes seemed to know all of the lyrics, and he even whipped out his phone to take videos of Ballerini's performances. (In other words, he's putting other Instagram boyfriends to shame.) The videos have collected hundreds of thousands of views and plenty of enthusiastic comments. "Seeing your girlfriend's divorce anthems from backstage is SUCH A FLEX," one fan commented. Another chimed in, "He is the ultimate golden retriever boyfriend and she deserves nothing less."
Here are the TikTok videos that have everyone shipping Chelsea (aka Chase + Kelsea).
Stokes was also there to support Ballerini for her SNL performance on March 4. Not only was he keeping things "weird" backstage (per her TikTok video), but he also posted an Instagram Story post-show, congratulating her. "QUEEN sh*t," he wrote, per Taste of Country. "@kelseaballerini you did the f*cking damn thing."
Stokes' willingness to follow along on Ballerini's tour is giving fans all of the feels. In her song "Mountain With A View," Ballerini sings about the challenges of a long-distance relationship — especially when you aren't putting in the effort to see each other: "You'll say I'm crazy for bein' the one to leave / Scream I'm just like my parents and givin' up easy / But you never took that last flight to see me / Looks like our ending ain't endin' happily."
The silver lining? Clearly, Stokes has no problem catching a flight to watch Ballerini sing. Fans took notice of that, too. "This is all she ever wanted... I'm weeping," one wrote. (Same.)