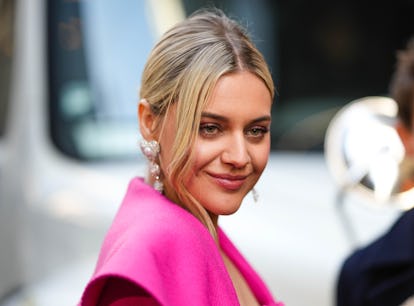 Kelsea Ballerini's Lyrics From Her New EP Are Taking Over TikTok
Edward Berthelot/Getty Images Entertainment/Getty Images
Kelsea Ballerini celebrated Valentine's Day by breaking hearts. With her new EP, Rolling Up The Welcome Mat, Ballerini got everyone in their feels with some pretty crushing lyrics and a poignant 20-minute short film. Since the EP's release on Feb. 14, TikTok users have been listening on repeat — and everyone seems impressed (read: slightly devastated) at how well Ballerini was able to capture the pain of heartbreak.
With the EP's release, Ballerini spoke about the painful writing that went into the project. "These are six songs I wish I had last year. It's about the complexities of the feelings you go through during a massive shift at a young age," she explained in a statement, per People. "Rolling Up the Welcome Mat was how I processed everything. It's the way I got my feelings out of my body and heart and put them to music — which is the purest way I could've handled it."
"The only way I've been able to handle my life since I was 12 was to write about it. Ironically, I started writing music because my parents got divorced; that was my therapy," she added. Ballerini announced her divorce from fellow country singer Morgan Evans in August 2022.
To announce the EP's release, Ballerini posted clips from the short film on her IG. "here's my healing journey. here's my heart. here's my truth. i've never been this open, i've never been this bold, and i've never been this proud of my art. so with love and respect, i'm rolling up the welcome mat. six song story and short film out now," she wrote.
Fans are raving about the EP on TikTok — specifically, the way Ballerini captured all the complicated emotions of heartbreak. Here are the lyrics they can't stop discussing.
"Mountain With A View"
In "Mountain With A View," the first song on the EP, Ballerini sings about a failed marriage. "I'm wearing the ring still / But I think I'm lying / Sometimes you forget yours / I think we're done trying," she sings.
Later in the song, she sings, "I realize you loved me much more at 23 / I think that this is when it's over for me... I think that this is when I cut the ties / I think that is when I set myself free / One day you'll ask, 'When was it over for you?'"
Fans noticed a lyrical parallel with Evans' song "Over For You," which he released in November 2022. In it, he sings, "How many times did you say you loved me / When it wasn't true? / I'm just wondering / How long has it been over for you?"
"Just Married"
Ballerini's "Just Married" also got attention on TikTok, specifically for how she flipped the meaning of "just" in the song. She sings, "But I wasn't made for fixing a plate or keeping our problems buried / I wasn't strong enough to keep on with all of the weight that I carried / Yeah, it was love / Then it was just married."
In another part of the song, Ballerini reflects on the pain of long-distance. She sings, "Long distance texts, make-up-for-time sex / Tired of asking when I'll see you next / I'm too mad to fight, so I starе and cry / At the picture of you and me wеaring white / Just married."
"Penthouse"
Ballerini's third song from the EP is where she got the name Rolling Up The Welcome Mat. She sings, "I guess wrong can look alright / When you're playing home in a penthouse, baby... It hurts putting sh*t in a box / And now we don't talk / And it stings rolling up the welcome mat / Knowing you got half." (As one TikToker put it, "This is the one that hit me the hardest. I could FEEL this one in my chest.")
"Interlude"
In "Interlude," a short song that sounds like a diary entry, Ballerini writes about the double standards for men and women post-breakup. "The rumors going 'round, but the truth is kinda nuanced / I wanna set it straight, but my lawyer says I shouldn't / And ain't it like this town to only criticize a woman," she sings.
One TikToker commented, "this is gonna simultaneously break and heal my heart."
"Blindsided"
Here, Ballerini writes about the problem with exes claiming they felt "blindsided" by a breakup. In the song, she sings, "And now you're saying that you're lost, and that's lost on me / Years of sitting across from me in therapy / I know the truth is hard to hear, but it wasn't hard to find / Baby, were you blindsided or were you just blind?"
One TikToker commented, "Um okay I'm just going to keep this on replay and 😭😭😭😭."
"Leave Me Again"
Ballerini ends the EP with a more hopeful song. "I hope you're spending Christmas with your family / I hope you're writing songs that you love / I hope you're feeling happier than you've ever been / And I hope I never leave me again," she sings, offering an optimistic perspective on closure.
This one also touched on what it's like to rediscover yourself after a breakup. "i didn't find who i was, but i thrived and found who i wanted to be 🤍," one user said, reflecting on Ballerini's lyrics: "I hope I remember all the pieces / Of who I was that I lost on the way / I hope I learn to love myself like I loved you then / And I hope I never leave me again."