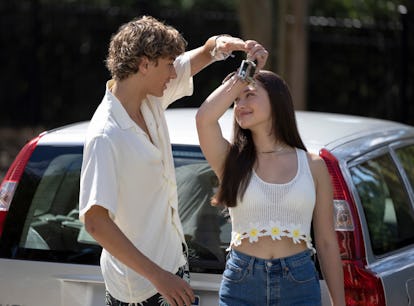 TikTok's Love For Golden Retriever Boyfriends, Explained
Ever heard of puppy love?
Peter Taylor
Often, TikTokers band together to warn each other about certain dating habits — such as the "Ben phase." But sometimes, the app actually unites to recommend a certain type of partner. Enter: the golden retriever boyfriend. Currently, the hashtag #GoldenRetrieverBoyfriend has almost 45 million views on the app — here's why these guys are TikTok's favorite breed of boyfriend.
According to the American Kennel Club, "Goldens are outgoing, trustworthy, and eager-to-please family dogs, and relatively easy to train. They take a joyous and playful approach to life and maintain this puppyish behavior into adulthood." According to TikTok, those traits pretty much sum up what it takes to be the perfect SO, whether or not they have golden blonde hair.
Goofy, charming, and universally liked, golden retriever boyfriends are easy to be around and happy to follow your lead. Think: Jeremiah from The Summer I Turned Pretty. "Usually golden retriever boys are pretty athletic... He's probably super energetic and likes going on hikes and may enjoy playing spike ball with his friends," as one user @_shinapark put it. "They can get a little hyper and are a bit goofy sometimes, but overall they're very sweet, genuine, and loyal guys."
Here are some of the best #GoldenRetrieverBoyfriend TikToks. (Reminder: golden retriever personality types can come in any person or gender.)
Users in the comments sections seemed to be big fans of this personality type, too. "Do you find these type of guys at pet smart?" one joked. Another asked, "Where is my golden retriever?" Although the comments are clearly joking, there is some merit in this trend — and more generally, in looking out for a partner with this type of personality. The #GoldenRetrieverBoyfriend romanticizes a healthy, reliable kind of relationship.
Plus, it takes on new meaning when the golden retriever boyfriend is dating someone with a black cat personality. Similar to BookTok's beloved grumpy/sunshine trope (aka Parks & Rec's April Ludgate and Andy Dwyer), this pair works so well together because they're opposites. The golden retriever is easy-going and universally friendly, while the black cat is a little (or a lot) more reserved and cynical.
According to TikTok, loyalty, cheerfulness, and a puppy-like disposition create the recipe for the perfect partner, and honestly, that's hard to argue. There's a reason having a dog can boost your mood — the same rule seems to apply for golden retriever boyfriends.