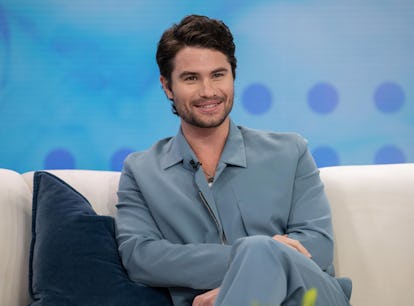 Chase Stokes & Kelsea Ballerini Are Officially Official, Officially
It's not like they were hiding it.
NBC/NBCUniversal/Getty Images
It shouldn't come as a surprise that Chase Stokes and Kelsea Ballerini are dating — the two have been posting loved-up IG pics with each other for a couple months now. But Stokes is finally done just letting the photos do the talking. He stopped playing coy about his relationship status during his March 3 appearance on Today, confirming he is indeed dating Ballerini as paparazzi pics of the couple kissing made the rounds on social media.
Rumors about Stokes and Ballerini's relationship began at the start of 2023, as fans began to notice the two newly single stars appearing in each other's Instagram posts. Despite all the pics, the pair didn't say anything concrete about what was going on until Ballerini appeared on the Feb. 22 episode of Call Her Daddy, admitting she wasn't single and had slid into Stokes' DMs. Just a few days later, Stokes finally confirmed he and Ballerini are dating during an interview on Today.
Host Sheinelle Jones asked Stokes if he was a fan of Ballerini, who would be performing on Saturday Night Live the following night. "Absolutely, I'm a fan. Yeah, who isn't a fan?" Stokes replied. "For those of you who don't know, they're dating," Jones said, which Stokes confirmed by nodding and saying, "Mmm hmm."
The confirmation came shortly after the paparazzi caught pics of the couple kissing while at a New York Rangers game together on March 2. Stokes was also on hand to support Ballerini during her Saturday Night Live performance on March 4. After the show, he posted a pic next to her dressing room, writing "Proud of you, my love."
Ballerini shared a pic of Stokes sweetly kissing her on the cheek after the SNL episode.
Both Stokes and Ballerini experienced very public breakups shortly before they began dating one another. Stokes had been dating his Outer Banks co-star Madelyn Cline since they met on set in 2020, but they split up at the end of 2021. As for Ballerini, she filed for divorce from her husband of five years Morgan Evans in August 2022.
Ballerini's divorce has gone on to inspire fiery new music from both herself and Evans. She performed two of her new songs with some not-so-thinly-veiled digs at Evans during her SNL appearance.