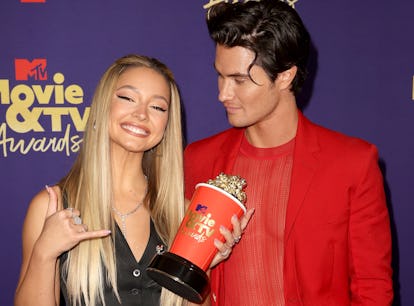 Chase Stokes And Madelyn Cline's Relationship Timeline Is Dramatic
Their IRL love story is nothing like that of their Outer Banks characters.
Kevin Winter/2021 MTV Movie and TV Awards/Getty Images Entertainment/Getty Images
At long last, Season 2 of Outer Banks is here, giving fans even more reasons to want to move to OBX, as well as to ship star-crossed lovers John B. and Sarah Cameron. And while their Pogue-Kook romance has always been filled with drama, Chase Stokes and Madelyn Cline's relationship timeline IRL did not follow suit right away. The Outer Banks co-stars have been dating since April 2020, but they only started sparking drama and rumors in Sept. 2021. Up until that point, their relationship was noticeably chill — partly due to their close friendship. As Stokes explained during a July 2021 interview with V Man, they work so well as a couple because they were friends first before things turned romantic.
"We have a very healthy relationship because it started with the work first," Stokes said at the time. "We didn't really have time to even comprehend the question: 'Is there something here?' That was all after the fact." And even though they kicked off filming for the second season as a couple, it seems like working together only made their bond stronger. "For Season 2, as soon as we get to work, we'll support each other," Stokes explained, adding, "I'm very thankful for her and the journey we're on. It's been awesome."
You love to see it. From co-workers to roommates to partners, here's how Stokes and Cline's love story unfolded from the very beginning.
Although their relationship might have hit a rough patch with these breakup rumors, Cline and Stokes have a solid foundation. So there's still hope, Outer Banks fans! And no matter how Cline and Stokes decide to move forward, we'll always have Sarah Cameron and John B.