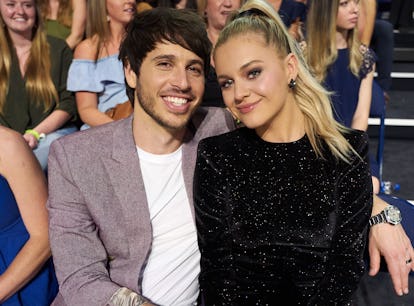 Kelsea Ballerini & Morgan Evans' Divorce Settlement Sounds Tense
"Who you marry is not who you divorce."
John Shearer/Getty Images Entertainment/Getty Images
Ever since Kelsea Ballerini filed for divorce in August 2022, things have seemed rocky between her and ex-husband Morgan Evans. From telling lyrics from both artists to a tell-all interview with Call Her Daddy's Alex Cooper, the once-couple has made their feelings about their breakup clear. And it sounds like Ballerini and Evans' divorce settlement is still a source of tension.
The duo, who signed off on their divorce on Nov. 3, 2022, had a prenup. According to court documents obtained by Page Six and People, as part of their agreement, they sold their Nashville house and divided the profit equally.
A month earlier, she told CBS Mornings that divorce went against her "peacemaker" and "people-pleaser" tendencies, but it wasn't a spontaneous decision. "When there's a big life decision like that, it's not a sudden one — there is a lot that happens before that becomes public," she said, per People. "So I'm on my active healing journey, and a big part of that is showing up for this album and showing up for myself like I never have."
During Ballerini's conversation with Cooper, however, she emphasized that a prenup didn't mean their divorce was mess-free. "Who you marry is not who you divorce. As he's putting out a song about being blindsided ["Over For You"], he's taking half the house that he didn't pay for," she told Cooper, per People. "How was I married to ​this person for this long and had no idea that that bit of character was tucked within that human being?"
She recalled her conversation with her lawyers: "They're like, 'He wants half the house; that's how they're reading the prenup,' or there's messy alimony language." According to her, she clarified with her lawyers, "Can you articulate to me that I have a choice right now, to [either] give up half of a house that I bought and he contributed [to], but not equal ... or stay, legally, in this marriage and have public alimony hearings indefinitely?"
When the lawyers confirmed what she thought, Ballerini decided to split the house. "I was like, 'Give him the house. I want out... Get me out,'" she recounted.
In her EP Rolling Up The Welcome Mat, she reflected on this same moment. In "Penthouse," she sang, "It hurts putting sh*t in a box / And now we don't talk / And it stings rolling up the welcome mat / Knowing you got half."
As Ballerini explained to People, the EP was based on her breakup. "These are six songs I wish I had last year. It's about the complexities of the feelings you go through during a massive shift at a young age," she explained. "Rolling Up the Welcome Mat was how I processed everything."
Following her Call Her Daddy interview, Evans commented on the situation in a Feb. 22 Instagram post. "It's really sad for me to see this person, who I spent so much of my life with, and loved with all my heart, saying things that aren't reality and that leave out what really happened," he wrote.