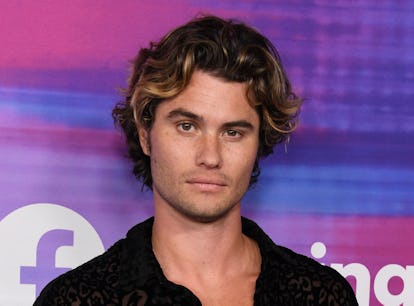 Here's Exactly What Chase Stokes Likes About Kelsea Ballerini
Jon Kopaloff/WireImage/Getty Images
Chase Stokes is clearing the air about his budding romance with Kelsea Ballerini. The duo recently sparked dating rumors after Stokes posted a photo of them cozied up together on Instagram. Since then, Ballerini has vaguely responded to the rumors on TikTok, not confirming or denying the relationship. Now, Stokes has joined in on the conversation.
On Jan. 18, a TMZ videographer asked the Outer Banks actor about Ballerini while he was running errands in Los Angeles. Though the two haven't publicly confirmed the dating rumors, the videographer seemingly "congratulated" their relationship and labeled them as "the cutest couple." In response, Stokes simply thanked her.
He then shared what drew him to connect with the country singer. "She's a sweet girl. We're having a good time and that's all I'll say," he said.
Though they seem to be enjoying one another's company, it appears the duo aren't looking to flaunt on social media. Well, beyond the snuggled-up picture Stokes shared on IG. When asked if he and Ballerini were now Instagram official, Stokes quietly shook his head "no" and shrugged his shoulders.
Stokes' coy words come two days after Ballerini addressed the romance rumors on TikTok. On Jan. 16, the singer showed a screenshot of a post from DeuxMoi's Instagram account where someone hinted the two might not be an item. Specifically, the anonymous user alleged Ballerini is "too busy" pursuing a relationship with a Soho House Nashville employee to be with Stokes.
Ballerini made it clear she wasn't here for the claim, even noting that she's about to "break up with the internet 5 sure." She said in the TikTok: "I know, I know, I know. Stop reading, stop reading. Stop looking. But what is happening, guys. What? Let's not do this."
Even with both these public responses, Stokes or Ballerini aren't quite denying their relationship. In this case, fans might have to wait on that Instagram official picture.