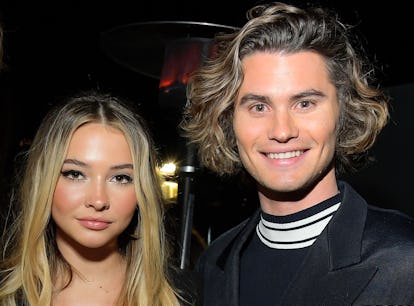 Chase & Madelyn Got Real About Filming Love Scenes After Their Breakup
Apparently, it wasn't as awkward as you might've thought.
Charley Gallay/Getty Images Entertainment/Getty Images
Running into an ex is awkward enough, now imagine having to film super-romantic scenes with your ex right after breaking up. It's safe to say Chase Stokes and Madelyn Cline found themselves in a very unique position when they ended their relationship just a few months before having to play lovers on screen in the third season of Outer Banks. Ahead of the new season's release on Feb. 23, Stokes and Cline opened up about what filming love scenes so soon after their breakup was like.
Stokes and Cline first started dating in early 2020 around the time the first season of Outer Banks debuted. For fans of the show, their chemistry was undeniable, as sparks flew between Stokes' scrappy Pogue John B. and Cline's rebellious Kook Sarah. Their on-screen romance carried over to real life, until reports began to surface at the end of 2021 that the couple had called it quits. The timing of the breakup raised a number of questions for fans, since the two were about to begin production on Season 3 in early 2022... and their characters were very much not broken up at the end of Season 2.
But, according to Stokes, it wasn't too difficult to re-contextualize his relationship with Cline as a strictly professional one. "Mads and I have been working together now for 30 episodes, and we made a promise to each other before we even started dating that the work was always going to come first," Stokes told Entertainment Weekly on Feb. 3. "And that no matter what happens in our personal lives, and the ways that life sometimes takes you in different directions, that we're always going to honor the work. That stayed 100 percent truthful this season."
Cline echoed Stokes' sentiments, saying the two actors always agreed to put their work first. "We had a working relationship before we had a personal relationship, and our job from day one has always been to leave the show better than we found it," Cline said. "I'm really, really happy and I'm very proud of the work this season, and I'm incredibly grateful for my co-stars and their professionalism and just how talented each and every one of them are."
So, it sounds like John B. and Sarah shippers won't have to worry about their two faves breaking up just because their actors stopped dating each other. Get ready to return to Poguelandia when Outer Banks Season 3 drops on Netflix on Feb. 23.