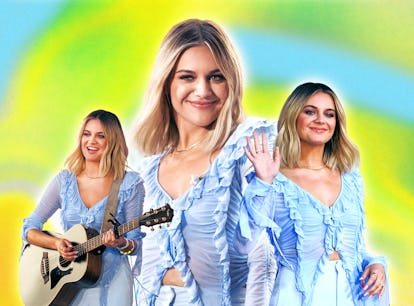 Kelsea Ballerini's Tour Routine Included FaceTiming Chase Stokes
The Grammy nominee has her on-the-road regimen down.
After 10 years of being on the road, Kelsea Ballerini is ready to lean into her Lover era. Fresh off the success of her Heartfirst Tour, the "Peter Pan" singer-songwriter tells Elite Daily she's prioritizing striking a balance between traveling for work and settling into her routine at home, which includes spending time with her boyfriend, Chase Stokes, and enjoying some downtime with her favorite caffeine fix. As the Original Donut Shop's first brand ambassador, Ballerini says the consistency of "a warm cup of coffee in the morning" is a comfort that brings her back to her childhood, whether she's on a tour bus, performing in a different city, or just relaxing in her own space.
"My grandma in Alabama was the first person who would ever let me have coffee," Ballerini remembers. "Of course, she would load it up with cream and sugar, but I've always just had this love for coffee." On the road, it's an essential for waking the singer up after "being Hannah Montana at night," the perfect companion for reading poetry in the mornings, and a comfort when she's feeling homesick — along with other cozy essentials like candles and pics of her loved ones that help her tour bus feel like a home away from home. Below, Ballerini shares her go-to tour routine, how she made her relationship work on the road, and why her latest tour felt so different from her other ones.
Elite Daily: You're the Original Donut Shop's first brand ambassador. What attracted you to this collab?
Kelsea Ballerini: When I was a kid and would go stay with my grandma, having coffee was this special thing because my parents didn't let me have it yet. In college, I started having a cup of coffee in the morning and making that a part of my routine. Now that my life is either on a tour bus or in a different city all the time, it's something I rely on as a consistency in my life. I don't have many, so it's become much more than just needing a little bit of caffeine in the morning. It's a treat and a really warm memory for me, so this partnership with the Original Donut Shop feels really authentic to me.
ED: What is your go-to coffee order?
KB: Ooh, it depends on what kind of mood I'm in. I'm either just an original Original Donut Shop coffee with no flavor and just a little splash of oat milk, or if I'm feeling a little spicy and feisty, I'll do vanilla. I guess that isn't very feisty. Or I'll do Twix, because it feels like I'm having dessert at 9 a.m. Who doesn't want to do that?
ED: You recently wrapped your Heartfirst tour. What did your routine look like in the mornings when you were on the road?
KB: My morning routine on the road is so different from my routine at home. I wake up late on tour because usually the show ends pretty late, and then I'll go meet people after. I really like to have slow mornings on the road because the nights are so busy and loud with so many people. I love reading poetry, so normally in the mornings, I'll grab a couple poetry books or I'll go to a local bookstore to find some. It's a nice little contrast for me to kind of be an introvert in the morning with a quiet cup of coffee, read, and then go be Hannah Montana at night.
ED: That makes sense. What would you say is your favorite part of being on tour?
KB: My favorite part is that the show is the same every night, but somehow, every night's different. I really like being able to tap into what makes each crowd different, whether it's finding someone in the audience that has a sign that it's their first concert or best friends that come together. That's been a really good experience this last year.
ED: What's the hardest thing?
KB: I get a little homesick. I've been touring pretty nonstop for almost 10 years now, and I think for the first time in my life, I really am valuing balance more — I think because I love my real life so much right now. It's interesting, because I love both. I love being on the road and touring, and I love being home and being a homebody. It's a really interesting little marriage of the two.
ED: I saw you recently shared a TikTok of your new song, "How Do I Do This," with footage of you getting ready for your first date with Chase. What are some of your best tips for long-distance relationships as a musician who's on tour?
KB: I think to each their own, but I think a FaceTime in the morning and a FaceTime at night to start and end your day with someone you love is really important. And it doesn't matter where you are in the world or what time zone you're in or how busy your schedule is — it's really easy to just find a minute or an hour in the morning and at night with your person.
ED: I love that. What are some of must haves for being on the road that make you feel less homesick?
KB: The nice thing is I travel on my own tour bus, so I can bring my candles and my pictures of my friends, my family, and my dog. So it really does feel like an extension of my home. It smells like my home, and I have the same cozy blankets and all that kind of stuff. There's a consistency there, which is the word I keep using because I need that through line to make life on the road feel sustainable.
ED: Yeah, definitely. How do you feel like this tour compared to past tours that you've done?
KB: Honestly, the 14 shows of the Heartfirst Tour's final leg were the most fulfilling I've ever played in my career. I think it's just because the music this last year has connected with people in a really different way than it has for me in my career so far. It's different to see how fans react through a phone and through socials than it is to be in a room and actually feel it, feel the energy shift into this really connective and powerful ride or die energy that I felt in the last few shows. I think everything feels a little different now.
This interview has been edited and condensed for clarity.