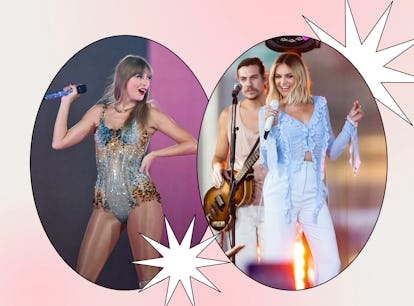 Kelsea Ballerini Texted Taylor Swift Before *That* Viral Tour Moment
The "Blindsided" singer also reveals the T-Swift era she's currently in and it makes so much sense.
It's no secret Kelsea Ballerini is a one of the biggest Swifties around. Less than a year after singing the "Karma" singer's praises on the 2022 Grammy Awards red carpet, Ballerini went viral for interrupting her own show on March 17 to ask fans about Taylor Swift's setlist on her first stop of the Eras Tour. In an exclusive interview with Elite Daily, the "Peter Pan" singer reveals the backstory of that moment, which started with a text exchange between the two besties.
"It's funny because I was playing Atlantic City in New Jersey the day the Eras Tour started, and I knew I was going to be on stage when it happened," Ballerini shares. Ahead of Swift's AZ show, the country star reached out to her BFF to get the tea on whether one of her favorite songs had made the cut. "I was texting with Taylor beforehand and I was like, 'OK, level with me. Is "Cruel Summer" on the set list?' And she just said something cheeky back," the country singer remembers. "I forget exactly what she said, but she didn't give me a straight answer."
After learning that Swift had played "Cruel Summer" from her fans, Ballerini later found out that the Grammy winner had actually started her whole performance with the single, which made the inclusion even more meaningful. "It felt like a win for all mankind," she says.
The "Blindsided" singer has been a longtime member of Taylor's squad. In addition to performing with Swift early on in her career and duetting together on Ballerini's first single, "Love Me Like You Mean It," the besties love to share their hangouts and wine nights on Instagram. In a 2016 interview with Teen Vogue, Ballerini even revealed that Swift refers to her as "lil sis," and thanked her for bringing more attention to her own music. The Rolling Up the Welcome Mat crooner has since broken out on her own with a successful Heartfirst Tour and a Grammy nomination for Best Country Solo Performance for her song "Heartfirst."
On the personal side, she's been in the spotlight for her relationship with Outer Banks star Chase Stokes, whom she was first linked to in January. After recently sharing a TikTok of her new song "How Do I Do This," along with a video of her getting ready for her first date with Stokes, Ballerini seems to be leaning into the romance department in all aspects of her life. "I'm in my Lover era," says the Swiftie — which checks out since "Cruel Summer" is on that album. You can't help but stan.