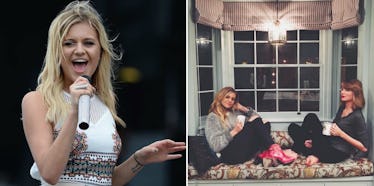 Squad Member Kelsea Ballerini Reveals The Best Advice Taylor Swift Gave Her
REX/Shutterstock/Instagram
Kelsea Ballerini has taken country music by storm, but her appeal stretches far beyond Nashville.
If you're a country music fan, you undoubtedly recognize Kelsea Ballerini's songs, but even if you don't listen to country radio, there's a good chance you recognize her as a certified member of Taylor Swift's squad.
Most recently, it was rumored T. Swift was releasing new music via a collaboration with Kelsea Ballerini, but Kelsea swiftly (get it?) shut that rumor down with a quick tweet.
Y'all! I'm just as excited for some new T Swift jams, but I'm not involved with it!! Roses was a demo of mine. Crazy confusion! https://t.co/BwqNX9iXCb — Kelsea Ballerini (@KelseaBallerini) September 21, 2016
While there are some notable differences between the two stars -- Kelsea calls Nashville (not NYC) home and has no plans to move, owns a dog (not cats) and is still very much the face of female country music (Taylor now belongs solely to pop) -- it's not hard to see how they became friends, nor is it a stretch for some to dub Kelsea Ballerini "the new Taylor Swift."
The real similarity between the two singers, though, comes from the fact Kelsea Ballerini is on a fast-track rise to mega stardom in the music world -- and she's only just getting started.
With three number ones ("Love Me Like You Mean It," "Dibs" and "Peter Pan") off her debut studio album, The First Time, two major CMA nominations, plans to headline her first tour later this year and 565K followers on Instagram, the 23-year-old's life is a pretty exciting spiral right now.
Kelsea is totally relatable. She describes herself as "awkward," enjoys binge-watching TV shows ("Stranger Things" is her latest obsession) and is bound and determined to make her new tour bus feel girly (it previously belonged to Josh Turner whose "boyness" she is trying to get rid of with candles and throw pillows).
While her music is unapologetically country, it has distinct hints of pop, too. Her songs are also deeply personal because she writes her own music, a fact her diehard fans don't take for granted.
I got the chance to talk to Kelsea about her whirlwind rise to the top of the country charts, how she got her start and what it's like to be friends with Taylor Swift, someone she once stood in line to see.
Catching someone like Kelsea on the way up the fame ladder is a little surreal. When I asked her questions, she didn't pause to think about how her answers would come across.
Instead, it felt like I was talking with an old friend who was telling me about this world she's now a part of, one she's still kind of in awe over.
She's an open book -- a bubbly, grateful, 23-year-old open book who is currently in the midst of writing her next chapter (also, she's literally writing her next album) -- so check out her candid answers below.
How long has music been a part of your life? Did you always want a career in music?
I grew up doing music and loving music... I did worship at my church growing up and I was involved in the glee club and all that kind of stuff, so I always loved music, but I never thought [a career in music] was something I could do... I thought that people who were singers were born into it... I think it wasn't until I started writing songs when I was 12 that I really fell in love with all of it and the idea of doing it all.
What kind of music did you listen to when you were younger?
Britney Spears was my first concert! I grew up listening to a lot of pop actually... but I also grew up on a farm in East Tennessee and so I think my roots naturally were really country, but I didn't know what country was at that time.
To look at your career as a fan, it seems like everything just clicked for you almost overnight. Was there a time when you were really frustrated and started thinking it might not happen for you?
I let myself be patient... I think when I first moved to town when I was 15, I thought it was going to be really easy, but I learned very quickly that it wasn't going to be because so many people are talented [in Nashville]... and so I think as soon as I realized all the talent that was here, I just let myself be patient. I knew that if I just focused on myself and focused on writing what I wanted to write and figuring out what it was I wanted to say then that would propel me ahead, rather than focusing on other people.
What was it like hearing your songs on the radio for the first time?
Crazy. I have a video of it. I, like, laughed and cried at the same time. I was just emotional. I was in Nashville, too.
You've had an incredible past couple of years in terms of career milestones. What are your biggest standout moments at this point?
I call them mountaintop moments. Actually, it's funny, I'm standing here talking to you and I just put on my mountaintop necklace... Because everything is so crazy and so busy, they're the moments for me that make me look up for five seconds and realize I'm going to never forget whatever is happening in that moment. And so the last one for me... my song 'Peter Pan' was number one... and I celebrated with my label and everything and I was definitely excited, but I don't think I had really processed it yet. And then I was on my last week of the tour with Rascal Flatts, and I was on stage and I said out loud, 'This just became my third number one song, it's called 'Peter Pan.'' And as soon as it came out of my mouth... I bawled my face off. And the crowd sang the whole thing louder than I've ever heard anyone sing my song before... It was one of the most beautiful moments of my entire life.
You also got to share a stage with Taylor Swift as part of her 1989 Tour. Were you always a fan of Taylor Swift and what was that experience like?
Taylor Swift was one of my earliest inspirations, one of the reasons I wanted to be a singer-songwriter. And I have pictures where I waited in line to meet her... Getting to sing with her on her tour in the arena where I grew up seeing her shows, and singing my song, which had just gone number one at the time... it was one of those moments where -- I still don't even think I've really processed it. And then after that, we became really good friends, and that was even more special.
Is there any advice Taylor Swift has given you that really stands out?
Early on, when I was on my radio tour, I got media training before I went because I was 19 and I was terrified... I was so scared of doing something wrong that I was really really polished, but anyone who knows me knows that I'm not like that at all. I'm quirky and weird and awkward -- and that's just who I am. I remember talking to [Taylor], and she said to me, 'Kels... if you are just true to yourself and don't worry about anything other than being who you are, two things: A) At the end of the day you can be proud of that and B) In the long run, that's going to win'... and I've tried to do that ever since, and I've been a lot happier.
You have CMA nominations for both New Artist of the Year and Female Vocalist of the Year, a category which includes huge names like Carrie Underwood and Miranda Lambert. What's it like being in a category with these artists you've grown up listening to?
It's crazy! I mean I wouldn't even know what it looks like to to be a female in country music without them... to be in a category with them is stupid crazy. It honestly makes me feel like I'm doing something right, which is so encouraging... I'm stoked to watch some of my friends and my idols win that. And to be a New Artist, I mean these are the people -- we were out on the road doing radio tour together... and they're all my friends and we've all worked really really hard, so I think all of us deserve to be there.
You have a really strong social media presence, but if you had to choose, Instagram or Snapchat?
Instagram. Instagram is the one where no one else knows my password, no one ever posts anything for me. It's just totally all me.
As your fan base keeps growing, what are your general thoughts on social media? Do you still read people's comments? Do you feel an increasing pressure to post?
I do read everyone's comments, and I don't feel pressure because I feel like I'm really honest with my social media... I decided really early on I just wanted to show my actual self and not someone I wanted people to think I was... I know when I post something it's not going to be something that is not me.
Kelsea knows a good night out starts with a good playlist so she hand-picked some songs to help get you ready. Check out your perfect weekend soundtrack below and don't forget to watch the CMAs on November 2!