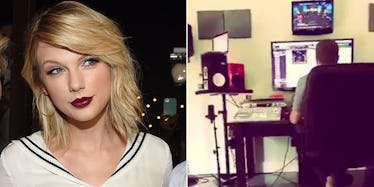 A New Taylor Swift Song May Have Leaked And There's A Video
REX/Shutterstock/Snapchat
I DON'T EVEN KNOW WHAT TO SAY RIGHT NOW BECAUSE I AM LITERALLY SHAKING.
There may be a new Taylor Swift song coming out soon, at least according to a Snapchat video.
Over the weekend, Taylor's good friend Kelsea Ballerini added a 15-second clip to Snapchat of a song playing inside a studio.
The ~mysterious~ voice sings,
We didn't know it / thought we could grow it / beautiful for a moment / we were roses.
Not gonna lie, the singer sounds exactly like Taylor Swift. I'm not the only one who thinks so, either.
The internet is literally freaking out because TAYLOR SWIFT MIGHT BE MAKING NEW MUSIC!!!
Somebody get me some water before I pass out.
Just listen for yourself to see what I mean. TAYLOR, IS THAT YOU?
Fans are doing everything they can to put the pieces together.
People believe Kelsea and Taylor might be collaborating on a new song together. COULD IT BE?!
According to Twitter, Taylor mentioned the words "beautiful moment" in a recent Instagram story. ARE YOU PICKING UP WHAT I'M PUTTING DOWN?
She did also just end things with Tom Hiddleston, and she still has a lot of drama with Calvin Harris.
On top of ex-boyfriend stuff, she has an ongoing feud with Kim Kardashian and Kanye West, so you could say Taylor has a lot of things she could potentially write about.
Hopefully, the full song gets leaked soon so we can listen and know if this really is Taylor Swift, or if Kelsea is just messing with us.
GIRL, YOU BETTER NOT BE PLAYIN'. DON'T DO THIS TO ME, KELSEA. I'M WARNING YOU.
But really, give us more info. Thanks.
Citations: Taylor Swift New Song (Teen Vogue)