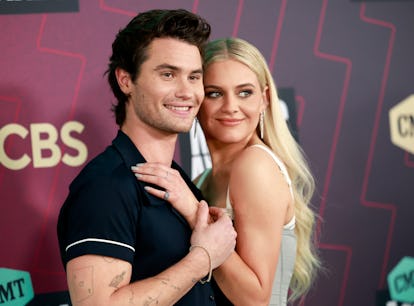 Kelsea & Chase's Body Language At The CMT Awards Hinted At Their Bond
Those backstage photos, though!
Emma McIntyre/Getty Images Entertainment/Getty Images
On April 2, Kelsea Ballerini hosted the CMT Awards — and she had a hot date on her arm. Ballerini brought Chase Stokes to the award show, marking their first official appearance as a couple after four months of dating. And what's a celebrity red carpet debut without a little overanalyzing? Here's a full breakdown of Ballerini and Stokes' body language, including their backstage PDA.
In a TikTok video posted by MTV, Ballerini and Stokes can be seen exiting their car together, hand in hand. They walk along the carpet, stop for a quick photo opp, and continue on their way. It's a short clip, but according to Patti Wood, body language expert and author of Snap: Making the Most of First Impressions, Body Language, and Charisma, there's plenty to dissect.
First, there's their "unusual handhold," which is directed downward. Per Wood, the way they're holding hands sets up Stokes to "have more responsibility to pull forward," but Ballerini takes the lead instead. As they walk, Wood notices "a lot of tension" in their handhold — something you might expect from a couple making their first big appearance together. As they pose for the camera, those hints of nerves are still visible. "They're doing performative couple stuff," Wood notes, but that doesn't mean it's all for show. "They're playful and having fun together," she adds.
Per Wood, the rest of Ballerini and Stokes' photos on the red carpet appear similarly posed. While there are some really good signs (like the way Stokes holds Ballerini to him and the way Ballerini leans in), the overall theme is that they're very aware of the cameras. "It's not cozy," Wood says. While their romance might be intimate, "they're not going to show that to the public." Or at least they'll show it on their own terms.
Hubert Vestil/WireImage/Getty Images
CBS Photo Archive/CBS/Getty Images
Jason Kempin/Getty Images Entertainment/Getty Images
Backstage, however, is a different story. In a few snapshots, Wood comments on how happy the couple looks. In one, Stokes is hugging Ballerini, wrapping his whole body around her. "It's great hug on his part. He's going all the way in," Wood says. As for Ballerini, her smile says it all. "She's gleeful," Wood adds.
In another, Stokes and Ballerini are looking at one another with "open mouth smiles" — a sign of genuine emotion and happiness. "It's showing that there's some fun and playfulness between the two of them," Wood says.
Here's to John B and Kelsea B!