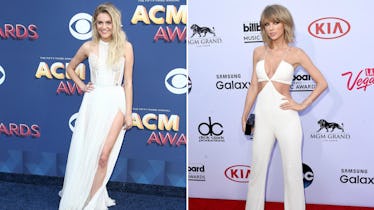 Kelsea Ballerini & Taylor Swift Gushed Over Each Other On Instagram & They're BFF Goals
Tommaso Boddi/Jason Merritt/Getty Images Entertainment/Getty Images
Ain't no squad like a Taylor Swift squad, y'all. And for those of you follow Swift's posse pretty closely, you'll know that country singer Kelsea Ballerini plays a massive part of it. It's clear that Swift and Ballerini are the ultimate #squadgoals — the two iconic singers have shared their overwhelming success with each other, and I find that pretty damn awesome. And now, the world recently got to see Kelsea Ballerini's Instagram about Taylor Swift, and it will make you want to text your best friend ASAP.
On Tuesday, May 8, Ballerini took to Instagram to show her love for her BFF Taylor Swift, letting her know that she's beyond excited for her to start her Reputation tour and to let fans know that our girl Tay-Tay is just as amazing on stage as she is off of it. She wrote,
Happy tour kickoff to my friend that is equally as inviting, warm, and entertaining drinking wine on the couch as she is on stage. That being said, I can't wait to come fangirl and get inspired. Potentially with a sign. Potentially also with some kind of snake apparel. Go get em, sister.
Yas, girl! So sweet. But what's even sweeter is the photo that was alongside her caption. It showed two gorgeous gals (aka Taylor and Kelsea) in matching apparel (I *feel* like they are bath towels, but I'm not going to assume), just chilling and drinking wine, much like almost all BFF's do:
Also, I'm really feeling this couch, so if either Taylor or Kelsea's team can reach out to me with the deets on that, it would be much appreciated. But, I digress.
Swift then commented on the photo, writing,
It's so weird that people say we're similar, I don't see it at ALL. love you kel kel
How cute?!
I just find it so sweet that Ballerini is so supportive of her good friend, and just wants to see her crush life (which, let's be honest, we all know she's doing).
In an interview with Elite Daily, Ballerini talked about how Taylor Swift played a "massive part" in her rise to fame. She said,
She tweeted about my EP before my first single was even Top 40. When people compare us, I hope that it's because she's always kept songwriting and her fans at the forefront. And that's always something that I hope to take from her and what she does.
Speaking on behalf of everyone when I say that the comparison is only because the two are literally just all-around incredible singers and songwriters.
Pure royalty, the both of ya.
And, in a previous interview with Elite Daily, Ballerini also talked about what it was like to share a stage with Taylor Swift during her 1989 Tour.
"Taylor Swift was one of my earliest inspirations, one of the reasons I wanted to be a singer-songwriter," Ballerini said. "And I have pictures where I waited in line to meet her... Getting to sing with her on her tour in the arena where I grew up seeing her shows, and singing my song, which had just gone number one at the time... it was one of those moments where — I still don't even think I've really processed it. And then after that, we became really good friends, and that was even more special."
Imagine meeting someone you worshipped when you were younger, only to grow up and perform with that person? AND THEN YOU BECAME FRIENDS WITH THAT PERSON?!
For once, I just want to live in a world where something like this happens to me.
So, for all you Swift and Ballerini fans out there, just know that these two ladies are pure and loving and perfect BFF's. And I can't wait to see Ballerini holding up an "I love Taylor Swift" sign on her tour with some snake apparel on, because that's the true meaning of friendship.