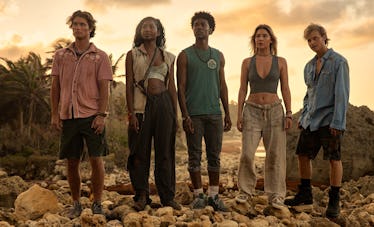 Outer Banks Got Renewed For Season 4 Before Season 3 Even Dropped
The Pogue chaos isn't slowing down anytime soon.
Netflix
The Pogues aren't fading into the sunset yet. Netflix announced its beachy adventure series Outer Banks will return for a fourth season, and the big update arrived sooner than most fans expected. The renewal announcement came just days before Season 3's premiere on Feb. 23, so the early vote of confidence was certainly reassuring to fans of the show. If you're already mulling over what treasure the Pogues will be chasing down next, here are all the details to know about Outer Banks Season 4.
The Outer Banks cast and crew made the big reveal at Netflix's Poguelandia event on Feb. 18. The interactive fan convention, tied to Season 3's release, brought the deserted island that John B, Sarah, JJ, Pope, Kiara, and Cleo washed up on at the end of Season 2 to life. With no plans of returning home, the Pogues dubbed the island Poguelandia and set about building their new lives there. However, it's unclear just how long this isolated new lifestyle will last in Season 3, especially since now fans know a fourth season is on the horizon to deliver even more drama.
The show's creators Jonas Pate, Josh Pate, and Shannon Burke announced the fourth season in a joint statement: "The Pogues are enjoying an adventure of a lifetime, and we now get to map out more twists and turns as the joyride continues into Season 4 of Outer Banks. Thank you to Netflix, our cast, and the amazing fans who helped to make this happen."
Outer Banks Season 4 Cast
The renewal announcement didn't come with any casting details, but it should be safe to assume the Pogues will all be back for another adventure. That includes Chase Stokes as John B, Madelyn Cline as Sarah, Madison Bailey as Kiara, Jonathan Daviss as Pope, Rudy Pankow as JJ, and Carlacia Grant as Cleo. However, although there are plenty of other major characters central to the show, it's unclear just how bloody Season 3 will get. Could the new season be the end of villains Ward Cameron and his son Rafe, or will Charles Esten and Drew Starkey be back to terrorize the Pogues some more in Season 4? Fans will have to wait to see what happens.
Outer Banks Season 4 Predicted Release Date
Outer Banks' release schedule has been a bit all over the place for its first three seasons, mainly due to global lockdown restrictions at the beginning of the 2020s. But the early Season 4 renewal could be a good indication that there won't be too long of a wait after Season 3. Hopefully, Season 4 will debut in early 2024.
Outer Banks Season 4 Predicted Trailer
It's way too early for any footage of Season 4. After filming begins later in 2023, a trailer will likely drop before the end of the year to get fans pumped for the next adventure.