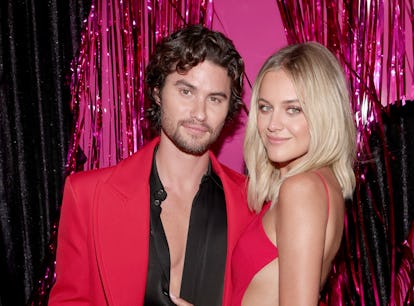 Kelsea & Chase's Body Language Brought Serious Heat To The VMAs
Kelsea Ballerini and Chase Stokes were feeling the love at the 2023 MTV VMAs on Sept. 12, and they got veryyy touchy-feely on the pink carpet. The couple, who started dating in January, couldn't keep their hands off of each other. According to Patti Wood, expert body language analyst, Ballerini and Stokes' body language at the VMAs was an encouraging mix of "playful" and "possessive" cues.
In several videos from the event, Ballerini and Stokes appeared to be in their own little world despite the photographers. Per Wood, author of Snap: Making the Most of First Impressions, Body Language, and Charisma, that's a good sign for their romance. Specifically, she notes their "mutual gaze." Stokes gave Ballerini a "nice, loving look" and "she matches it," Wood tells Elite Daily. Rather than staring at the cameras, they kept their focus on each other. "They're having a moment together that excludes the paparazzi and external stuff," Wood explains. That kind of attention bodes well for their romance since it indicates that their priority is the relationship, not the media scrutiny.
There was a "playfulness" to Ballerini and Stokes' walk across the carpet, per Wood. She specifically points out the moment the couple laughed together mid-posing: "That giggle is spontaneous. Both of their bodies lift up into the laugh," she explains. (When laughter is posed, that lift is missing.) Wood adds, "They're enjoying the moment together."
Immediately afterward, Stokes kissed Ballerini. "He very, very gently takes her chin to kiss her. It's not controlling or forceful," Wood says. And that was far from their only sweet moment. Later on the carpet, Ballerini stumbled a bit, and Stokes instinctually shifted his leg to catch her fall. "They're very much in sync with one another," Wood suggests. "He reacts by balancing her immediately."
Ballerini and Stokes weren't just "tender" together — they also had a ton of sexual chemistry. As they posed, their entire bodies were pressed up against each other. Ballerini, in particularly, kept her pelvis glued to Stokes' side. According to Wood, this indicates some heat. "When you put all of your body windows against another person, it show you're open to them sexually."
They also seemed to have a *healthy* level of possessiveness toward each other — happy to be seen as a unit. "He is doing a body lean against her, putting some weight onto her body," Wood says. Meanwhile, Ballerini kept her hand on his chest, even placing her thumb inside his shirt for skin-to-skin contact. "As she's doing it, she's got this grin on her face like, 'I got him. He's mine,'" Wood says.
From traveling to see each other to attending red carpets together, Ballerini and Stokes have put serious effort into keeping the romance alive despite their hectic schedules. "I think a FaceTime in the morning and a FaceTime at night to start and end your day with someone you love is really important," Ballerini told Elite Daily in September. "It's really easy to just find a minute or an hour in the morning and at night with your person." If their body language is anything to go by, it seems like those FaceTimes have paid off.