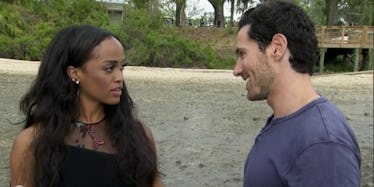 8 Cringeworthy Moments From Rachel's Season Of 'The Bachelorette' So Far
Hulu Screenshot
This season of The Bachelorette has brought many, many cringeworthy moments. The reality TV awkwardness is so real. We are now six episodes in, which equals 12 hours of Bachelorette gold.
Someone's occupation was "Tickle Monster," there was a guy who's been friend zoned for like 15 years, and Jack Stone's infamous awkwardness. These eight moments literally made me cringe.
1. The Tickle Monster Entrance
Bachelorette contestant Jonathan came on a reality television show with the occupation, "Tickle Monster." It was like an inside joke that never got explained. When he greeted Rachel with the ol' fake-out-hug-turned-tickle, I almost died. If I were Rachel, he would have gotten a swift kick to his bathing suit area.
I feel mad because he started as a weirdo, but became strangely endearing. All the guys even chanted, "Go, Tickle! Go, Tickle! Go, Tickle!" during a dance party. The Tickle Monster (aka Jonathon) finally went home during Week 5 eliminations.
2. Whaboom Accuses Blake Of Watching Him Sleep
This "feud" freaking kills me, it's just too funny. Blake E. tried to start drama with Whaboom (aka Lucas), accusing that he wasn't there for the right reasons. Really? A guy with a cartoon version of himself on his shirt? I think Rachel could've figured that one out. Anyway, this caused Rachel to confront Lucas. He explained Blake is obsessed with him and watched him sleep while sexually eating bananas.
When Rachel goes to ask Blake about the banana eating, his defense is that he doesn't eat carbs. I thought this was the funniest thing I've ever heard. What did that have to do with perving on Whaboom? Rachel, on the other hand, didn't have time for this nonsense and sent them both home during Week 3.
3. America Meets Adam Jr.
A Bachelorette contestant named Adam brought Adam Jr., a very creepy doll. I think Adam Jr. is supposed to be the hypothetical son he and Rachel would have. Adam Jr. speaks French and has become the inside joke of the season. Still doesn't make him any less creepy.
4. Friend Zoned Freddy
For anyone who has been friend zoned (uh, me), this is particularly cringeworthy. Fred was someone who went to school with Rachel when they were kids, and has had a burning love for her ever since. Rachel just couldn't get over picturing him as a child and ended up sending him packing during Week 3.
The two did share an awkward kiss that began with Fred asking her if it was OK to kiss her. Not cool.
5. Jack Stone's One-On-One Date
Jack Stone seemingly has it all. He's a lawyer, he's handsome, and successful. He's also so painfully awkward. This guy seriously needed to get a clue. Rachel looked physically in pain during the entire date, but he just blathered on about how he was falling for her. I mean, just look at her face, bro. He also has this creepy serial killer head tilt going on.
Twitter freaking roasted him. Poor, Jack Stone. Needless to say he was sent home. Maybe we'll see you in Paradise.
6. DeMario's Ex-Girlfriend Drama
DeMario may be mixed up in Bachelor in Paradise drama right now, but let's not forget the OG moment that made us cringe. The gang went on a group date that consisted of a basketball game.
After playing well, DeMario thought Rachel was pulling him aside to give him a rose or praise him for his hops. He walked out, all smiles, then realized his ex/current girlfriend was sitting right there.
This was too good. What made this moment even more awkward is he first tried to deny knowing her. This girl had text messages cued up on her phone and sealed DeMario's fate. He was sent home during Week 3.
7. Kenny Confronts Lee... Again
I think all of America let out a sigh of relief when Rachel sent home Lee from the two-on-one date with Kenny. Things seemed all good as Kenny and Rachel were getting ready to fly away together in a helicopter. All of sudden, Kenny hopped out to go confront Lee again and it was... weird.
Dude, you won. You're the one in the helicopter. Rachel looked really annoyed and it was awkward.
8. Josiah Gets Sent Home
Holy moly, talk about foot-in-mouth. Josiah was getting hype before the rose ceremony. He was assuring America there was "no way" he would go home. The last rose came and his name was not called. Womp, womp. I had to look away, it was all too embarrassing.
There really were too many cringeworthy moments to count this season of The Bachelorette, and it's only Week 5! Can't wait to see what's to come.