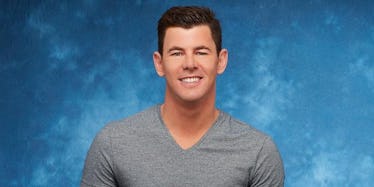 'Bachelorette' Contestant Blake Reveals He Knows "Whaboom" Guy From Another Show
Craig Sjodin/ABC
I don't think many people were rooting for Lucas on The Bachelorette after hearing him "whaboom" all over the season premiere, but the May 29 episode may have made it impossible.
At first, things seemed to be going well for Lucas. He won the "husband material" challenge on the first group date of the season and was able to spend some alone time with Rachel afterward. But that all changed once Blake E. decided to drop some facts on Rachel (and the audience).
Apparently, Lucas was on another reality show before The Bachelorette, which is how Blake knows him. Oh, and if that's not awkward enough, Blake's roommate just so happens to be Lucas' ex-girlfriend. Yikes.
Because of these connections, Blake thinks he knows Lucas better than Rachel and decides to warn her. He claims Lucas is only on The Bachelorette for fame and to promote "whaboom" (though he can't be doing a very good job since I still barely understand what it is...).
Of course, Lucas completely denies that he's on the show for "the wrong reasons" and says he's there for Rachel.
But he can't deny having a reality show past, as there's plenty of evidence on the internet. The video below is a clip from the WeTV series Ex Isle, posted to YouTube by the network in February 2016.
About 22 seconds in, you'll see Lucas trying to "keep the party going" in the pool. If you pay close attention, you'll see another familiar face sitting on the edge of the pool — Blake.
There isn't much footage available of Blake on Ex Isle, but a cast page on the WeTV website lists him as a contestant, along with a link to his current Twitter page. That's where you'll see a few of Blake's tweets promoting the series.
But there's plenty of Lucas footage. In addition to the clip above, his Ex Isle video bio is still available. As you'll see in the clip below, he wasn't listing his occupation as "whaboom" back then, but rather the much more palatable real estate investor.
We'll have to see if this information changes Rachel's feelings for Lucas — or Blake. Hopefully, it will at least cause Lucas to stop yelling "whaboom" so often.