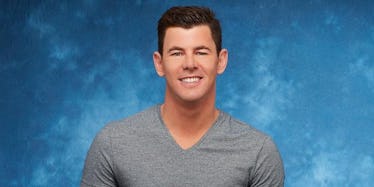 The Whaboom 'Bachelorette' Contestant Has Already Been On A Reality Dating Show
Craig Sjodin/ABC
With every season of The Bachelor and The Bachelorette, fans are forced to analyze whether or not the contestants are there for the "right reasons."
The "right reasons," for those unfamiliar with the moral compass of the polygamy-style reality dating show, are quite simple: Are the contestants there to find love or are they there to find fame?
One of the best right-reasons indicators is the contestants' job titles.
Struggling actor? Wrong reasons.
Aspiring Sugar Bear Hair Model? Wrong reasons.
Whaboom? Um, unclear.
Lucas, a 30-year-old contestant on Rachel Linday's upcoming season of The Bachelorette, lists his profession as "Whaboom."
Chris Harrison, who has never been described as "having a way with words," said this about Lucas' occupation:
It's a noun, verb… It's an adverb. Like, you can be 'Whaboom' … and you can Whaboom, and you can call somebody a Whaboom.
Cool, cool.
In an effort comparable to Sherlock Holmes solving his first great case, I did some digging and landed on Lucas Yancey's personal website and LinkedIn page.
He's listed as a Real Estate Investor and Actor/Director on LinkedIn -- no mention of Whaboom.
Along the top of his website, you'll find tabs for Home, Reel, Videos, Gallery, and About -- all signs point to labeling Lucas as an aspiring famous person, not a comic book sound effect.
His "About" reads,
Lucas Yancey is originally from Woodside, California. He graduated from UC Berkeley and majored in Legal studies with a focus in Business. While attending Berkeley, he and his team won 4 Rugby National Championships. He started his own business, and committed much of his time to several on-campus organizations and philanthropies. As part of one of the organizations he spent many years mentoring inner city children, helping them grow and learn to achieve higher education and reach their goals. He continues in these endeavors to this day. He currently works as an Actor/Writer/Producer in Los Angeles. He has appeared in many major television shows, commercials and movies. His company, YknotWorld Productions makes comedic films, short films, commercials and various other content. He enjoys doing stand-up comedy and improv shows at The Comedy Store and the Hollywood Improv. He is fluent in Spanish and also works in Real Estate as a private investor and developer. He owns and manages many properties in Los Angeles as well as in the San Francisco Bay Area. Life Motto: Consistency is what makes YOU! Hash tags: #WhaaaBoooom #BurgertYme #LetTheBigDoggEat #WhosHungry #Gobbletyme
*cue sighs of "Ohhhhh, OK, that makes sense" from Bachelor Nation*
Lucas' profile also features a series of videos he's created and starred in.
The stand-out video, after spending roughly a half hour digging through his 65 YouTube videos, is from ANOTHER dating reality show called "Ex Isle" that was uploaded 2016.
So, this is clearly not Lucas' first time at the rodeo.
Additionally, another video posted by WE TV shows Lucas keeping "the party going with Dublin girls."
Fun!
So -- what does "Whaboom" mean and what does Lucas really do?
Based on my extensive research, it means he has a Nick Viall-level of reality TV show fame thirst but seemingly better enunciation skills and a real knack for poolside parties with Dublin girls.
His bio also mentions he majored in legal studies, so who knows? Maybe Rachel will see a law-abiding twinkle in his eyes and ignore his flagrant desire to be #famous.
I look forward to seeing your future Diff Eyewear Instagram ads, Lucas!