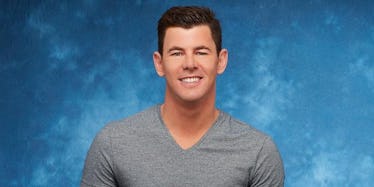 This 'Bachelorette' Contestant Just Gave Us The Most Insane Job Description Yet
Craig Sjodin/ABC
We all know that the best part of The Bachelorette cast reveal is really just seeing what insane thing they've decided to list as their job description. Well, the new 13th season of The Bachelorette just majorly delivered with the most bizarre, puzzling job description ever.
In the past, the reality giant has listed contestant jobs that include, "Chicken Enthusiast," "Canadian," and "Twin."All of those were obviously incredibly insane (How much does being a twin pay, by the way?) but at least they served as some sort of descriptor for the contestant.
That can't be said for Lucas, a 30-year-old man that we know literally nothing about because Chris Harrison announced his job description as "Whaboom" in the cast announcement.
Yep — apparently, Lucas wakes up every morning, puts on a suit, gets in his car and drives to the office and Whabooms from 9 to 5. Obviously, nobody has any clue what the hell this even means.
Chris Harrison tried to explain the concept of Whaboom to the viewers during his Facebook Live announcement, but he just made it more confusing.
It's a noun, verb... It's an adverb. Like, you can be 'Whaboom' ... and you can Whaboom, and you can call somebody a Whaboom.
Great, thanks for that clarification, Chris.
But surprisingly, "Whaboom" isn't even the worst job description of the bunch.
No, that honor goes to Jonathan, who has the dishonor of being introduced to the world as a professional "Tickle Monster."
Yikes!
Although Chris Harrison did acknowledge he and the show's producers do like to have some fun with giving the contestants memorable job descriptions.
He told viewers that Jonathan being a "Tickle Monster" will explain itself in the first episode of the season and that it won't be as creepy as it sounds. Sure, Chris...
We'll find out what "Whaboom" is and what it means to be a not-creepy Tickle Monster when "The Bachelorette" premieres on ABC this Monday.