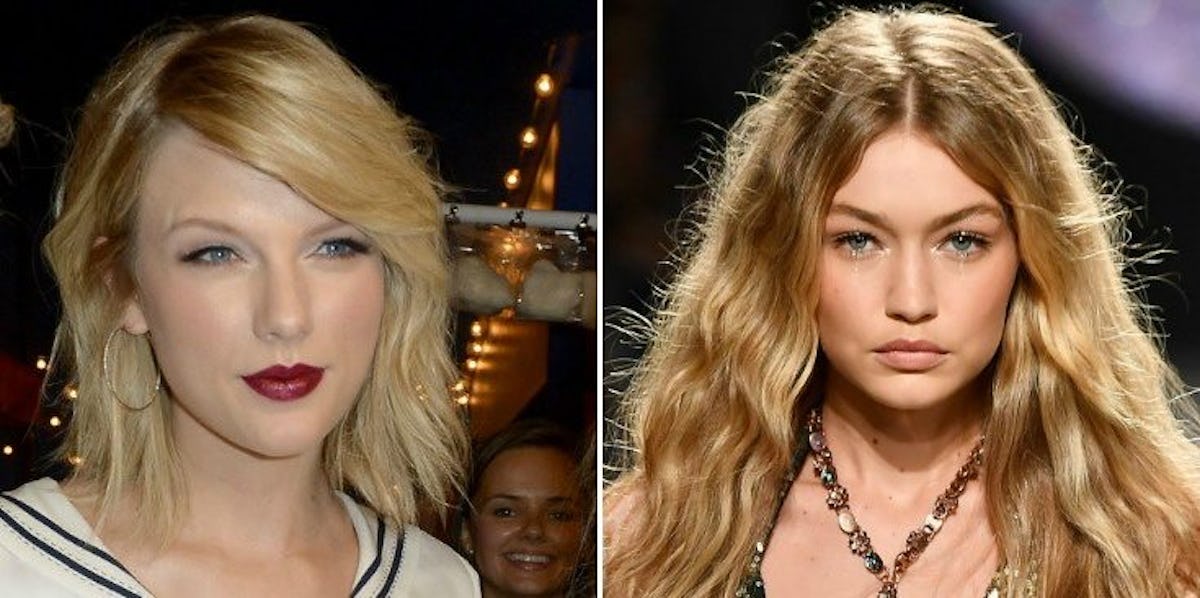 Are Gigi Hadid And Taylor Swift Still Friends? Zayn Malik Gives An Update
Getty Images/ Gustavo Caballero, Frazer Harrison
Zayn Malik is usually too busy giving everyone a smoldering look to dish up dirt on other celebrities. I guess we've all been real good because he just gave fans the best insight to our most burning question — Are Gigi Hadid and Taylor Swift still friends? Hadid is an OG squad member, but these two ladies haven't been seen out and about together in a minute.
In addition to that, Swifty's squad members have remained curiously quiet about the "Look What You Made Me Do" music video off Swift's newest album, Reputation, that's set to release Nov. 10. This has raised suspicion among fans, but Swift is known for controlling every aspect of her album releases, so I'm sure the squad had a group text going about how press coverage will be handled.
This is why it was so surprising that an inside scoop would come so randomly from Malik. During his recent interview with Elle UK, the "Dusk Till Dawn" singer was asked about the controversy surrounding Swift. Malik didn't hold back when it came to his professional and personal relationship with her.
…when it comes to anything that has to do with trivia about people's personal lives or things that's going on in their careers, I don't necessarily pay too much attention. I don't pay too much attention to what people even say about me. I just tend to take it for what it is when I meet them people in real life and have a conversation with them. If they're cool with me, then I base my relationship on that.
Malik and Swift worked together to create the single and video for "I Don't Wanna Live Forever," that was intended for the Fifty Shades Darker soundtrack. He continued,
In terms of relating to it, of course I relate to things being written about us all the time. But I don't listen to it. I rate her as an artist, I think she's cool, I think she's successful, and I think she deserves her success because she's worked hard. That's just how I look at it. I did a song with her, it was fun, she was professional. She gets on with my girlfriend, they're good friends. I don't have a bad word to say about her. She's cool.
There's your answer, they're "good friends." I always knew it. Here are five reasons why Swift and Hadid's friendship will never end.
1. They jam together in the car.
Hadid and Swift singing "I Don't Wanna Live Forever" is the ultimate in-car jam session. Why wasn't this the music video? Plus, the video above was Swift's first time hearing her and Zayn's collab on the radio. Who did she spend this special moment with? HER GOOD FRIEND, GIGI HADID, THAT'S WHO.
2. They gush over each other on social media.
Taylor Swift wishing Gigi Hadid a happy birthday with a giant bouquet of flowers is BFF goals. These two always show birthday love on social media, and general all-year-round love, too.
3. Chips and guac are a girls' night must.
In 2016, Hadid spent a casual girls' night with Swift to celebrate Halloween. A few of the squad members got together in fab costumes and did what girls do... eat pounds of chips, guac, and pizza. "Pounds" of food is usually what my friends and I consume... so that's what I'm basing it off of. During an appearance on the Today Show, Hadid spilled the details of their get-together,
It was really cool, we were all working so my friend had a little, like, girls' night at her house. We had chips and guacamole and pizza.
Yeah... so... cool. *Dies of jealousy.*
4. British men charm them (obvi).
Hadid and Malik are well-known love birds. Swift's rumored boyfriend, Joe Alwyn, is a British actor, and I think we all remember Hiddleswift. Obviously, Hadid and Swift like men of the English variety, and they're fully aware of it. During an interview with Evening Standard, Hadid was asked about her and Swift being drawn to British men, she said,
Well I think we both like the British sense of charm.
You and me both, sister.
5. Tay third-wheels Hadid and Malik's dinner dates — that's BFF stuff.
After Swift's relationship with Tom Hiddleston ended faster than it began, she had a lot of free time. Some of her outings included third-wheeling with Hadid and Malik. Honestly, who do you think the real third-wheel was? Helping a friend through a tough breakup creates a lifelong bond.
As you can see, Taylor Swift and Gigi Hadid are meant to be friends forever. Although they haven't spent much time together in the spotlight, they're always there for each other. Thanks for a fantastic update, Zayn.
Check out the entire Gen Why series and other videos on Facebook and the Bustle app across Apple TV, Roku, and Amazon Fire TV.