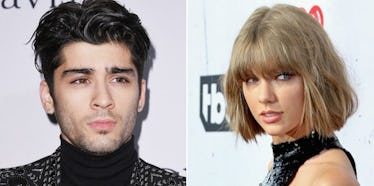 Zayn Malik Gets Candid About His Relationship With Taylor Swift And Her New Album
Kevork Djansezian/Frederick M. Brown/Getty Images
Zayn Malik isn't really one to give his opinions on anything. It's rare that we hear the singer reveal private details about his life, but he has dished some details about his relationship with his girlfriend, Gigi Hadid. But in a recent interview with Elle UK, Malik got unexpectedly candid about his professional and personal friendship with Taylor Swift, who once had a short-lived relationship with his former One Direction bandmate, Harry Styles. When asked what he thinks of the controversy surrounding Swift in the media following the release of her recent single "Look What You Made Me Do," Malik was pretty blunt in his response. In fact, Zayn Malik on Taylor Swift's new album drama is probably the most open he's been in a while. The "Dusk Till Dawn" singer told the outlet,
...when it comes to anything that has to do with trivia about people's personal lives or things that's going on in their careers, I don't necessarily pay too much attention. I don't pay too much attention to what people even say about me. I just tend to take it for what it is when I meet them people in real life and have a conversation with them. If they're cool with me, then I base my relationship on that.
Malik and Swift recently worked together on the single and video for "I Don't Wanna Live Forever," which was created for the Fifty Shades Darker soundtrack. He continued,
In terms of relating to it, of course I relate to things being written about us all the time. But I don't listen to it. I rate her as an artist, I think she's cool, I think she's successful, and I think she deserves her success because she's worked hard. That's just how I look at it. I did a song with her, it was fun, she was professional. She gets on with my girlfriend, they're good friends. I don't have a bad word to say about her. She's cool.
No one else from Swift's squad has spoken publicly about Swift's "LWYMMD" music video. Some have talked about the song itself, praising it, of course, but most did not say anything about the video, which is interesting. Some fans believe this is shady, but I think it's more of a "don't give power to the hate by speaking of it" kind of thing. Swift is very deliberate about any and all info that comes out of her camp, which likely means she's already spoken to her "squad" about how she would be approaching press coverage for her new album, set to release Friday, Nov. 10.
Swift's new album, reputation, is seemingly going to touch more on the fact that the media doesn't let her catch a break when it comes to her career and her personal life. Based on "LWYMMD," it seems like Swift believes she's been unfairly judged over the years and wants to change things up. The lyrics in "LWYMMD" seem to directly call out her feud with Kim Kardashian and Kanye West when she sings, "I don't like your little games, don't like your tilted stage." The signature of Kanye West's most recent tour, the Saint Pablo Tour, was a stage that was elevated over the audience and, yes, was tilted down into the crowd at points.
Zayn and Taylor no doubt have spent lots of time together through their collaboration on "I Don't Wanna Live Forever" and through Taylor's close friendship with Gigi Hadid. We'll have to wait and see what other people in Swift's circle come out to defend her as she releases more music from reputation.