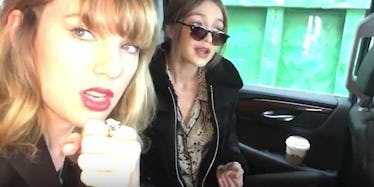 Gigi Hadid Sings Taylor Swift And Zayn's Song Better Than Taylor In Funny Video
YouTube
OK, but like, don't you guys have Spotify or something?
Taylor Swift and Gigi Hadid freaked when they caught Tay and Zayn's song "I Don't Wanna Live Forever" on the radio for the first time.
Yes. The radio. The ol' AM/FM.
Maybe the girls were in a cab, or a time machine to 1995.
Maybe neither of them have logged onto social media or tried to watch Hulu and been beaten over the head with this song in ads for "Fifty Shades Darker."
Maybe that's why this is exciting.
Honestly, Taylor Swift being pumped to hear any of her songs on the radio at this point is kind of like me being pumped to find fat wads of my own hair embedded in my living room carpet.
It's not a matter of IF, but WHEN (answer: every day).
Tay shared a video of herself and Geeg lip-syncing to the song on her YouTube channel on Wednesday, and the 48-second clip has garnered over 500,000 views.
In some behind-the-scenes footage from the making of their music video, Taylor remarked on Zayn's signature falsetto.
She said,
I've known Zayn for a really long time. I think his voice is one of those that is really rare and I think he's really special and wonderful and it's really, really amazing to get to work together. It's amazing when you get to work with people who you hang out with, because the question of 'Will we get along?' is already answered. You're like, 'Yeah, we'll get along. It's Zayn. We hang out. Like, it's fine.'
K. That sounds real, I guess. It definitely doesn't sound like the kind of thing you say about your friend's boyfriend when you're trying to be diplomatic but you sort of just wish they'd end it already.
No one's forgotten the feud Taylor's ex Calvin Harris got into on Twitter with Zayn after the former One Direction member shaded Tay in a retweet.
Even if the rest of the world has dropped this beef in the sewer, Taylor Swift doesn't forget. In fact, personal grudges are the cornerstone of her career.
It's the kind of hyper-lucrative pettiness we all aspire to, but will likely never achieve.
Citations: Taylor Swift and Gigi Hadid Freak Out Hearing 'I Don't Wanna Live Forever' on the Radio for the First Time (Us Weekly)