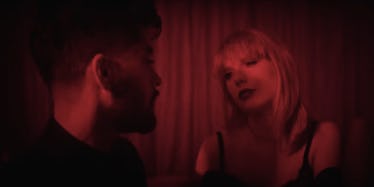 Taylor Swift Gushes Over Zayn In Behind-The-Scenes Clip: 'He's Really Special'
YouTube
Either Taylor Swift genuinely thinks the world of Zayn Malik or he has a secret he is blackmailing her with for positive PR, because this gushing is adorable, but a little excessive.
Listen, I love Taylor Swift to death but she is a super odd choice to be singing the new "50 Shades" song. She has an amazing voice and she really kills it in "I Don't Wanna Live Forever," but she also has the sexual energy of a broken ceramic plate.
This is a "50 Shades" song, not the soundtrack to "Trolls." This song is supposed to get me hot n' sweaty during my morning commute, not turn me into a bucket of ice water and guilt.
Thankfully, Zayn and his hothothothothothothot voice are there to anchor this song and video.
Yeesh. Someone has to stop trying to make Taylor pretend like five minutes before the shoot she was googling "how to sexy."
Zayn clearly does all of the sexual heavy lifting in the song, and Taylor is seemingly incredibly grateful for that.
During an interview with Capital FM, Taylor talked about how great it was to work with Zayn on the song, saying,
I've known Zayn for a really long time. I think his voice is one of those that is really rare and I think he's really special and wonderful. It's really, really amazing to get to work together.
In case you're trying to figure it out, the two do know each other from before. Zayn is currently going out with Gigi Hadid, who is part of Taylor's infamous Squad.
Taylor went on to say,
It's amazing when you get to work with people you hang out with because the question of 'will we get along?' is already answered. Like yeah, we'll get along. It's Zayn. We hang out. It's fine.
Wellllllll, if Gigi and Zayn ever split I think I have a pretty good idea where Taylor is going to get the inspiration for her next album.
Citations: Taylor Swift Fangirl Over Zayn In World Exclusive Behind The Scenes Video For Capital (Capital FM)