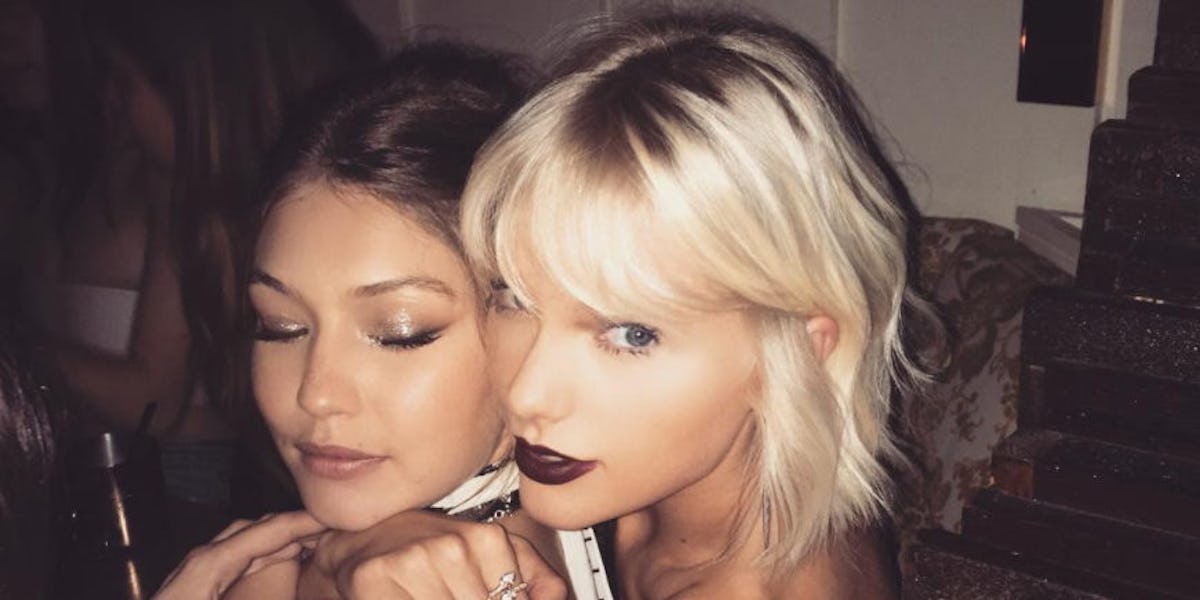 Gigi Hadid Gushes Over 'Inspirational' Taylor Swift In Adorable Birthday Post
Instagram
Ah, December 13... the day Taylor Swift's squad gets on bended knees and swears their undying loyalty to their Negan-like leader.
Just kidding, it's T. Swift's 27th birthday and there is much rejoicing throughout the land.
Let's just say her rabble of successful gal pals are letting their love for the singer show in a big way on Instagram. Take Gigi Hadid's gushing post for instance:
"Celebrating with u in spirit?" Is... Is...
Is Gigi Hadid not invited to Taylor Swift's birthday party? Is Gigi... a spirit?
I mean, I'm probably flying off the handle a bit here.
Why don't you check out Ruby Rose's birthday message for the pop star while I collect my thoughts together and try not to hyperventilate?
If you thought Gigi's post was adulatory, then Ruby's is the equivalent of a lifelong blood oath to her Khaleesi; Tay Tay. She wrote in her caption,
What does one even begin to say about this incredible woman. Happy birthday to one of most incredible, loyal, loving and generous human beings I've ever met. @taylorswift you are an amazing friend and I wish you nothing but the most amazing day. You deserve so so so much joy today and forever more, Just like the joy you bring to others. Xoxo
Case and point? Gigi's post had an "xx" and Ruby's had an "Xoxo."
XX = 10, 10? XOXO = 100, 100? You do the math, dammit (because I won't).
I know this is absolutely ridiculous so please disregard.
But the love did not stop there.
I bet Taylor's cheeks were a Waterworld after she received this sweet message from her bestie... Kevin Costner?
Happy Birthday to the one and only @taylorswift13! pic.twitter.com/efcc3Kc2Z9 — Kevin Costner & MW (@modernwest) December 13, 2016
OK, clearly Kevin is not in Taylor's squad; Kevin's on Team Hatfield, Taylor's on Team McCoy.
All kidding aside, Karlie Kloss continued the love train on Instagram in adorable fashion:
"Can't wait to celebrate together very soon?" Did Taylor fail to organize a birthday party for herself... because she believed that her friends would throw her a surprise birthday party?
If so: Uh oh, y'all.
Also, doesn't it feel like Taylor has like eight friends who she calls her bestie, just to keep them all on their toes?
All in all, I wish Taylor a happy birthday. I know when she tells me I'm her best friend she's telling the truth.
Citations: Taylor Swift Turns 27: Karlie Kloss, Gigi Hadid and More Celebs Wish Her Happy Birthday (Us Weekly)