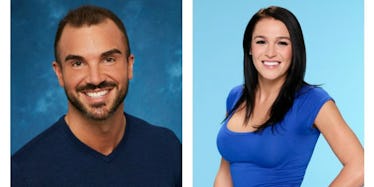 10 'Bachelor' And 'Bachelorette' Contestants Who Would Make Amazing Couples IRL
ABC Network
When I'm not spending my time eating Cheez-Its and watching reruns of Friends, I often fantasize about being a producer on The Bachelor or The Bachelorette.
Besides constantly giving unsolicited advice on love, I have dedicated a better part of my Monday evenings (and life) to these contestants.
I think I could really make some amazing, life-long pairs. Finally, every Carly Waddell out there could find their Evan Bass.
Here are some of my favorite contestants who I think would make amazing couples IRL.
1. Matt Munson And Alexis Waters
Matt was just sent home by Rachel Lindsay this season, but I think Alexis would be good for him. Alexis is a self-proclaimed dolphin lover who famously dressed like a shark for her intro.
Obviously, Matt admires her because he boldly dressed as a penguin for his first encounter with Rachel Lindsay. This really seems like a no-brainer.
2. Kristina Schulman and Dean Unglert
OK, so Dean is doing very well this season with Bachelorette, Rachel Lindsay. That's cute and all, but if he wasn't going to propose to someone else, I would totally propose these two get together. Ayyy. Twitter already played around with this idea, but I still love it.
They both have traumatic backstories that resulted in becoming stronger people and having a great perspective on life. Plus, they're both adorable, which always helps. The two have already sparked dating rumors. Fans have been 'shipping them since Kristina posted the following tweet while Rachel was talking about Dean's age.
3. Becca Tilley And Derek Peth
Their kids would have the most gorgeous blue eyes. I just think both of them seem like really nice people with good personalities who are funnier than their season gave them credit for.
Since The Bachelorette, Derek has been travelling and doing all sorts of fun stuff. Becca has basically been doing the same. She recently broke up with another former contestant, Robert Graham, so she's single and ready to mingle. They could hang out at the beach and eat tacos together. I'm not seeing a problem with any of this.
4. Jubilee Sharpe And Luke Pell
People had all sorts of ideas for Luke Pell after JoJo dumped him. Honestly, there was one second when I thought he was going to be the next Bachelor. Twitter had an uprising to try and get him and Raven Gates together, while other rumors swirled about him dating Danielle Lombard. I love both of those women, but I could really see him and Jubilee making it happen.
They are both veterans and the strong, silent type of people. I think they would have a good understanding of each other and a deep emotional bond. Am I overthinking these?
5. Danielle Lombard And Chase McNary
I couldn't leave my homegirl, Danielle L., hanging. She and Chase would make the most adorbs couple. They are both super sweet and easy going. Plus, I think Chase would treat her the way she deserves. I'm talking in your direction, Nick Viall.
6. Raven Gates And James Taylor
This leads me to fan-favorite Raven. James Taylor made this easy, because he was already courting her.
He tweeted out a sweet message asking Raven to meet him in Paradise, and people were eating that sh*t up. He has since tweeted that he's found the one thanks to Bumble, but we're all still secretly rooting for Raven and James Taylor.
Could you imagine these two Southern sweethearts falling in love? It would be too much for my cold, dead heart.
7. Marquel Martin And Haley Ferguson
Both the twins reportedly have boyfriends, but I'm going to continue with this anyway. Marquel was sent home during Week Five of Andi Dorfman's season without receiving a one-on-one date. This was sad because Marquel was a great guy.
I think he would be a great pairing with Haley because he's super fun, handsome, and lives in Vegas (her hometown). It's a win-win.
8. Whaboom And Josephine
Honestly, why the hell not? Both are the epitome of not being "here for the right reasons." Whaboom's T-shirt on night one should have just read, "For inquiries go to whaboom.com." You're trying to sell Fit Tea, bro, I see you.
Don't get me started on Josephine. She awkwardly slapped Nick Viall across the face during a group date. I think this was to show off her theatrical side. During one of her interviews on The Bachelor, she literally broke out into song.
Do you think she's trying to get into show business? I'm not sure... she may have been too subtle.
9. Taylor Nolan And Anthony Battle
Anthony may have come off as a dud on The Bachelorette, but he seems like a really nice guy. He describes himself as, "reliable and self-sufficient, emotionally intelligent, and generally very positive." Well, if there's anyone who appreciates a little emotional intelligence, it's good ol' Taylor Nolan.
Taylor needs a quieter guy. I can just imagine her going on and on about some sort of drama in her life while Anthony sweetly listens. He would be the ying to her yang.
10. Whitney Fransway And Jack Stone
Poor Jack Stone has just been getting roasted on Twitter since his creepy one-on-one date. I thought I would pair him with a real peach like Whitney. She's sweet and would help him relax a bit. I'm chalking up his serial killer tendencies to nerves. Based on looks, these two make a pretty cute pair.
These have been just a few of my perfect Bachelor and Bachelorette pairings. Do you have more? I would love to chat for five hours about it over wine. Let me know! I'm serious, I don't get out much.