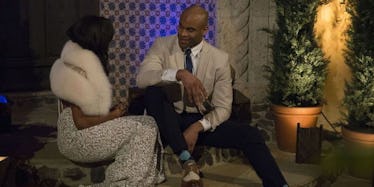 'Bachelorette' Rachel's Second One-On-One Date Was Way More Romantic Than Her First
ABC
The third episode of The Bachelorette brought us Rachel Lindsay's second one-on-one date.
Honestly, Rachel's date last week with Peter set the bar pretty high. I mean, they flew on a private jet to Palm Springs with her dog and went to a puppy pool party.
Then they had a romantic candlelit dinner and some serious conversation.
So, after the slightly awkward/kind of hot group date that took place on The Ellen DeGeneres Show, everyone really wanted to know who would be the next lucky guy Rachel would single out for some alone time.
And the lucky winner was...
Anthony!
So who is Anthony? Well, his full name is Anthony Battle and he's a software manager from Chicago, Illinois. He works for a tech company called Everfi, which provides education solutions.
The 26-year-old graduated from Northwestern University and was a Fulbright Scholar. So yeah, he's smart. He's also well traveled and seems to have a big heart.
He describes himself as "reliable and self-sufficient, emotionally intelligent, and generally very positive."
Based on his Instagram, he's close to his family.
He has a twin sister.
He's also a proud uncle.
O, and he's in excellent shape.
For their special date, Rachel told Anthony they were going to do things that could only be done in LA. So, naturally, they hopped on horseback and rode down Rodeo Drive.
First, they stopped and got cupcakes and then headed into a fancy store for a little bit of shopping — where, uh, the horse had a little accident.
Rachel seemed very into the whole thing, though.
And who can blame her?
Anthony and Rachel then headed to a romantic dinner overlooking the skyline and ended the night dancing while a string quartet played. And yes, she did give out a rose.
There have only been two one-on-ones so far so it's still pretty early in the game, but it certainly seems like Anthony will stick around for a while at least.